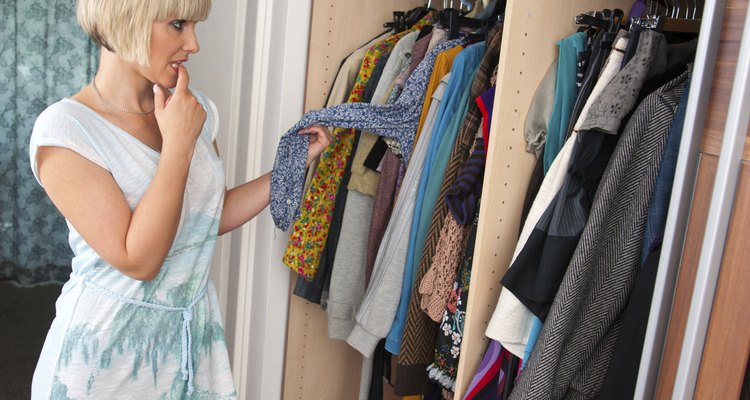 Dean Bertoncelj/iStock/Getty Images
As a petite woman, you have more curves to offer in a smaller package -- think of your body's characteristics as assets to be flattered rather than flaws to be hidden. Regardless of how your small and curvy frame is proportioned, you have plenty of style-savvy options depending on the situation, the look you want to convey and your own personal fashion sense.
Flatter your other half. If you're busty and a bit short, maintain a balance between your top and bottom halves with a simple blouse or streamlined T-shirt and blazer paired with a flowing bottom, such as a maxi or draped skirt. For a pear-shaped figure, highlight your upper body with a scoop or V-neck cut with added embellishments.
Highlight your waist. While this fashion tip may go against your instinct, wide, belts, corseted dresses and belted dresses actually flatter the lines of a petite and curvy frame, drawing attention to your best assets.
Go with long skirts or those with hems that fall at the mid-knee. Mini skirts squeeze curvy legs together, while mid-length styles let your gams shine. A-line skirts work very well on petite and curvy body types. Pair mid-length skirts with high boots to elongate your legs and opt for a bit of a heel instead of flats whenever possible.
Choose vertical patterns. These lines provide a nice contrast to curvy, compact shapes, highlighting the height you have rather than widening your body's lines, as horizontals do. Vertical stripes, piping and seams do the trick, as do similar vertical lines such as deep collar cuts and v-necks.
Create monochrome outfits -- outfits with elements from the same color family -- to give your body a sleek, streamlined look. While the colors work closely together, break up the monotony with layers, such as lightweight scarves or structured blazers, and varying textures. You can also mix in neutrals for a simple, timeless look.
For daily wear, stick with strong, textured fabrics such as wool, gabardine and heavier cottons to lend your body a flattering sense of structure. For a more elegant look, do just the opposite with draped shapes, such as wrap dress or draped blouse. These flowing lines naturally mesh with curvy shapes.
References
Writer Bio
With a diverse professional background and a decade of experience as a freelance writer, Dan has contributed lifestyle content -- from fashion to travel to fitness and more -- to publishers including Chron, Fortune, Sony, GlobalPost, ModernMom, Moviefone, Salon.com, Techwalla and dozens of others.
Photo Credits
Dean Bertoncelj/iStock/Getty Images