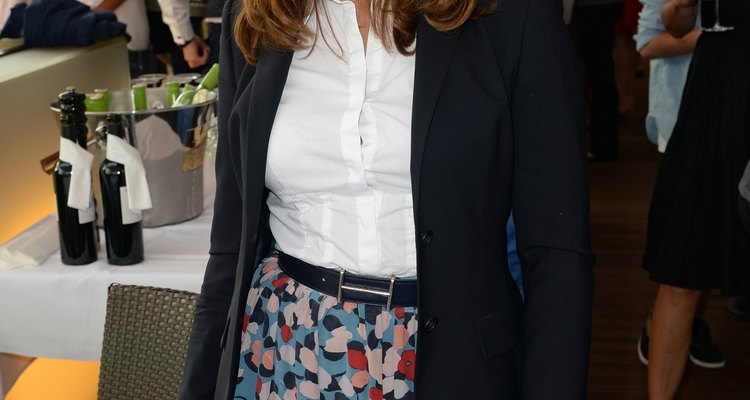 Hannes Magerstaedt/Getty Images Entertainment/Getty Images
A chic and sophisticated blazer is a necessity in every woman's wardrobe. Gone are the days where these style staples were meant solely for men. Pear-shaped women are often faced with the task of selecting pieces that flatter the body, rather than draw attention to its flaws. There are certain styles of blazer that pair best with this unique body type. Be on the lookout for details that make all the difference in enhancing your shape.
Try Shoulder Pads
The best blazer for a pear shape will add definition to the shoulders in order to balance out a larger lower half. The easiest way to do this is with shoulder pads. The look is not only fashionable, but will draw attention upward and away from areas that are less flattering. Over-exaggerated shoulder pads are a style look that comes and goes, so opt for this type of style if you're a fashion risk taker. Otherwise, stick to a blazer with subtle shoulder definition.
Seek Definition
Be sure that your blazer is tapered at the waist to best enhance your pear-shaped figure. It's always a good idea to emphasize the thinnest part of your body, especially when trying to mask problem areas on your bottom half. A blazer that skims your curves and nips at the waist will create an hourglass figure that's sure to gain attention for all the right reasons. Avoid boxy cuts that can make a pear shape appear larger. Anything too baggy will only add bulk to a small upper-body frame.
Avoid Bulk
When trying to minimize certain areas of the body, it's important to avoid any silhouettes that may add bulk. For instance, a blazer with pockets at the sides will do no favors for a pear shape. The extra fabric will only add volume to your sides, which can be a problem area for those that carry more weight on their hips. Stick to shapes that flatter rather than draw attention to areas you might want to mask.
The Right Length
In order to successully flatter your figure while sporting a blazer, make sure the length is just right. Avoid choosing a silhouette that cuts off at the largest part of your hips. The perfect blazer will skim your curves delicately and elongate your body for a sleek and statuesque shape. Opt for a blazer that hits just above your hip bone or at the tip of your fingers for a shape that's skimmed, stylish and chic.
References
Writer Bio
Sara Cantu has been writing fashion and lifestyle articles since 2009. As a fashion stylist, writer and blogger, she has been published in "Lady Couture" magazine and "RGV" magazine. She holds a Bachelor of Arts in journalism from The University of Texas - Pan American.
Photo Credits
Hannes Magerstaedt/Getty Images Entertainment/Getty Images