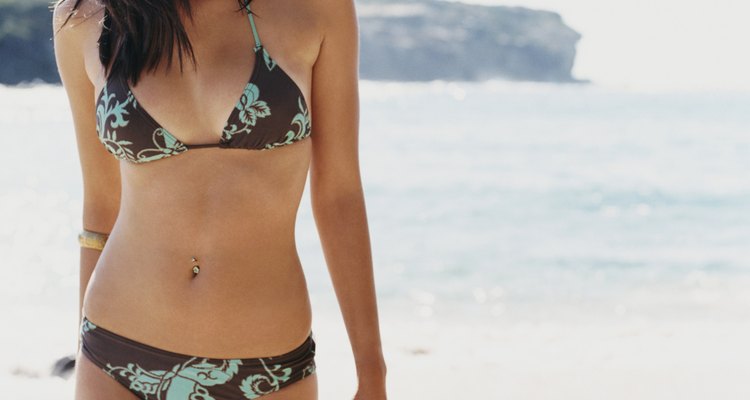 Digital Vision./Digital Vision/Getty Images
Find your best bikini look and amp up your breezy beach style by finding a swimsuit that works for your body type. Ladies with broad shoulders can look fantastic in bikinis as long as they know which shapes and styles complement their frames best.
Skip the Bandeaus
Because you have broad shoulders, you'll want a bikini top that creates a more feminine silhouette. While bandeaus are cute and fashionable, that style of top won't do your frame any justice -- especially if you have smaller breasts. Instead, a classic spaghetti strap style will do the trick by attracting the eyes of onlookers to the inside of your shoulders where the top's straps are. A halter-silhouette also complements a broad-shouldered shape and minimizes the shoulders by drawing attention up, toward your face. If you want more coverage, try a monokini with cut outs at the sides. This will give you more of an hourglass figure which helps to balance out your frame.
Nailing the Silhouette
If you choose to go with a thicker-strap top, look for straps that lay on the inside of your shoulders and form a V. This pulls the eye inward rather than outward, which gives the illusion of a narrower upper body. Low cuts work well for you, so don't be afraid to show off a bit of skin. The deeper the V, the further down the center of your body eyes are drawn, which is going to make your shoulders appear less wide.
Color Coded
Darker colors are most slimming. Try a bikini top in a black shade and pair it with bottoms in a bright color. If you'd rather sport color, deeper hues work too. Try hunter green, navy, charcoal or any other darker color you'd like. Slip on a bright or printed bottom to draw the eye downward. By selecting the appropriate color and straps for your bikini, you'll achieve a perfectly-proportioned bikini body.
Feminine Curves
Add feminine embellishments to create a curvier silhouette. This can be done as easily as choosing a girly print -- think florals and other prints in soft shades. A bit of padding in the bust of your bikini top can also do the trick. It instantly softens your chest area and rounds out your shape.
References
Writer Bio
Pamela Simmons has been writing professionally since 2009. Her articles on fashion, beauty and other topics have appeared on Denim Therapy and other websites. Simmons serves as an editor and public relations manager for CHIC.TV. She holds a Bachelor of Science in international affairs from Georgia Tech and a Master of Business Administration from Mercer University.
Photo Credits
Digital Vision./Digital Vision/Getty Images