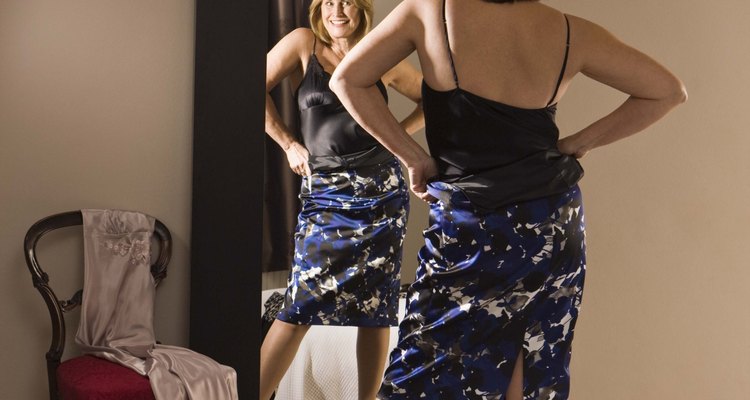 Jupiterimages/BananaStock/Getty Images
If you're top heavy and fuller around the middle or have a stick-thin boyish figure that's straight up and down, you lack waist definition. Dressing to play up your strengths and camouflaging other areas is key to visually whittling your midsection. From tops and skirts to dresses and jeans, there are easy ways to look your best in any scenario.
Wear long tops and tunics that end below the hipbone to elongate the torso. Favor low-cut or open necklines and tops with embellished necklines and shoulders to draw the eye upwards. Try sleeveless tops to highlight toned arms. Beware of any waist detail that might highlight this area such as a horizontal lines or lighter colors.
Try empire waist and corset tops for instant waist definition. Empire waist tops are nipped in just below the bust line – the smallest point on the torso – and will give the illusion of a defined waistline. However, avoid empire waist tops with thick stitching or heavy detail below the bust. A corset top reinforced with boning in a more rigid fabric will also knock a few inches of your midsection and give you added cleavage to boot.
Balance your top with some fullness on the bottom by favoring boot cut and flared jeans. Forever stylish and universally flattering on any figure, boot cut jeans are cut straight from the hip to the knee and then widen toward the hem providing a long, clean line. Flared pants look great on leaner, more statuesque figures, so be careful if you're on the petite or curvy side.
Favor skirts that hit just above the knee and longer for a well-proportioned silhouette. Anything shorter and you run the risk of looking boxy. Full, circle skirts and A-line skirts, which are fitted at the hip and flare out slightly toward the hem, are the top choices to create a more balanced proportion.
Don the most flattering dresses. An empire waist dress works the same as a top, and the added distance between your bust and the hem will give the illusion of mile-long legs. Look for styles that skim the body rather than hug it tightly or appear too boxy. Sheath dresses, wrap dresses, bias cuts, and dresses with princess seams are all flattering options.
Finish your look with a belted jacket or structured blazer. Choose a blazer that's fitted at the waist to instantly create a narrow looking middle. Consider light shoulder pads to broaden narrow shoulders. Find belted coats and jackets to create curves in all the right places.
Writer Bio
Hilary White is a professional writer and editor based in San Diego. White has been writing articles on fashion, style, fitness, nutrition, movies and entertainment since 1994. Her articles have been published in "Westways" magazine, "Pages" magazine, "Book Street USA," "Magill's Cinema Annual," and numerous titles from Visible Ink Press. White holds a bachelor's degree in English from Michigan State University.
Photo Credits
Jupiterimages/BananaStock/Getty Images