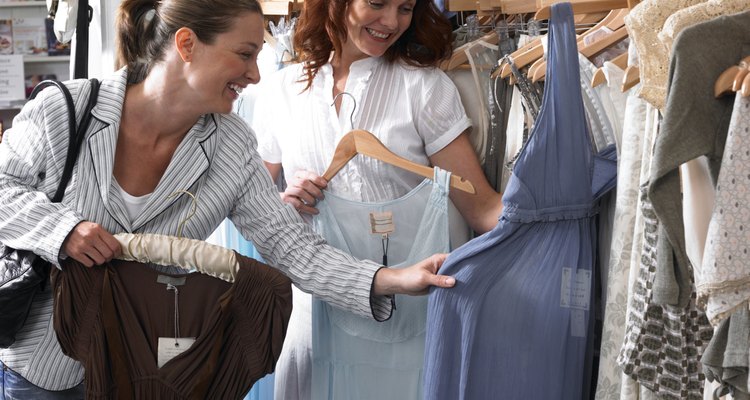 RL Productions/Digital Vision/Getty Images
Women who carry excess weight around the waist and abdomen are examples of apple body shapes. Apple-shaped women have undefined waistlines and a relatively large bust size compared with other body shapes, such as pear shapes. The key to dressing well when you are apple-shaped is to avoid voluminous clothing that adds bulk to the mid-section. Choose clothing that lifts the chest and emphasizes attractive features, such as shapely legs or a slender neckline.
Enhance the Waist
A high-quality supportive bra is essential to lift the chest and draw attention away from your midriff. An empire line dress achieves a similar effect by boosting and supporting the chest area and helping to create a more curvy waistline. V-neck dresses are ideal for women with larger bellies, because they draw the eye away from the stomach area and make the torso look narrower and less rounded. Wrap dresses are also flattering choices, as waist ties help to create a waistline and a smooth shape that skims over the tummy area.
Flattering Details
Women with larger bellies should choose dresses that have subtle feminine details, such as floaty cap sleeves that emphasize slender arms and knee length, A-line skirts to flatter slim calves and ankles. Details such as a vertical panel of pleats or side ruching may help to elongate the torso, but avoid fussy waistline details, such as large bows or belts. Wilson recommends dresses that feature details such as embellishment or contrasting colors around the neckline or hemline to draw attention away from the middle section of the body.
Colors, Patterns and Fabrics
Dresses that feature solid dark colors, such as navy, burgundy and indigo, and small patterns, such as polka dots, have an elongating and slimming effect the wearer. Women who are apple-shaped should avoid large patterns and prints and gaudy colors, as they draw attention to the mid-section. Separates, such as shirts and skirts, also draw attention to a wide midriff, while dresses made from figure-skimming fabrics are more flattering. Avoid stretchy and clingy fabrics like jersey because they emphasize lumps and bumps. Instead, choose fabrics that drape nicely, such as cotton, linen and polyester mix fabrics.
Clever Tricks
Figure-flattering dresses for apple-shaped women feature styles and accents that make the midsection of the body appear slimmer. For example, long, full sleeves distract attention from a large midriff, while a full '50s-style skirt makes the hips and bust look more proportional. Tight shift dresses are not recommended for apple shapes. However, dresses that hang in a straight line from the shoulder, such as tunic dresses, help to disguise the midriff area.
References
Writer Bio
Mother of three and graduate of the London Metropolitan University, Julie Vickers is an early years teacher and writer who also loves to craft and create! She writes on topics such as education, health and parenting for websites such as School Explained and has contributed learning sessions on child development and behavior for the Education Information and Learning Services website.
Photo Credits
RL Productions/Digital Vision/Getty Images