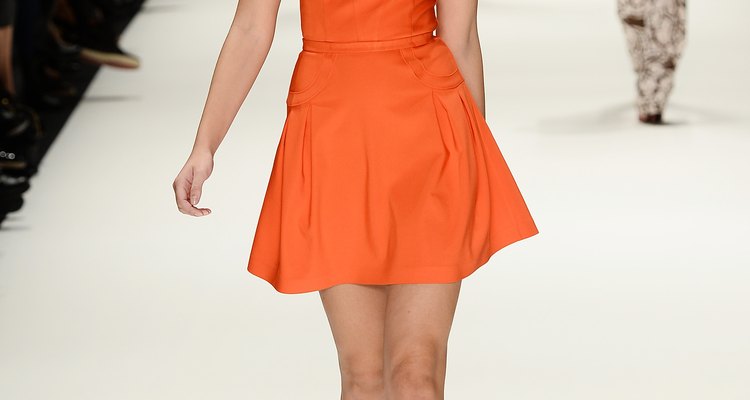 Ian Gavan/Getty Images Entertainment/Getty Images
The key to looking good is choosing clothing that flatters your particular body shape. Dressing a spoon-shaped body can definitely be challenging – that's because a spoon shape is similar to a pear since both feature a slender upper body and a larger lower body. However, if you have a spoon shape, you may have a more rounded stomach, and your hips are usually slender at the top and widen as they reach the legs. Still, a spoon usually has shapely legs, which is an asset you should definitely play up.
Embellished Tops
Since you have a smaller upper body, opt for tops with details that help add volume to balance out your larger lower half. In particular, blouses or shirts that feature embroidery, stones, sequins or other embellishments around the neckline are ideal because they highlight your slim neck and shoulders. Ruffled tops or blouses with bow-tie necklines also flatter a spoon shape. You can opt for fitted blazers, jackets or tailored shirts that emphasize your small waist too. If a top lacks definition at the waist, add a belt to cinch it.
Balanced Pants
With larger hips, thighs and backside, you should avoid slim-fitting pants like skinny jeans or leggings that emphasize your large lower body. Instead, opt for boot-cut or flared styles that help balance your larger hips and thighs. Flat-front trousers are the best option for a spoon shape because they won't add any bulk to your stomach. When it comes to colors, dark pants work well because they're slimming – go with dark-wash jeans or black, charcoal, navy or chocolate-brown trousers to create a long, lean silhouette.
Concealing Skirts
Spoon figures usually have slim, attractive legs, so you should opt for skirts that end just above the knee to showcase them. An A-line style is usually the most flattering because it's fitted at the waist but gradually widens toward the hem to help slim the look of your hips and thighs. You can also rock a tulip skirt because it features extra fabric near the waistline so it skims over your hips and thighs.
Eye-Catching Accessories
Since you want to focus attention on your upper body, a spoon figure can definitely make the most of accessories. A bold statement necklace like a colorful enamel bib or a sexy choker is ideal when you want to draw the eye upward. Looping a brightly colored or patterned scarf around your neck can also work well. You can opt for a pair of dramatic earrings too – a large chandelier or hoop style can bring the focus to your upper body, especially your slim shoulders.
References
Writer Bio
Based in New York City, Jennifer Blair has been covering all things home and garden since 2001. Her writing has appeared on BobVila.com, World Lifestyle, and House Logic. Blair holds a Bachelor of Arts in Writing Seminars from the Johns Hopkins University in Baltimore, Maryland.
Photo Credits
Ian Gavan/Getty Images Entertainment/Getty Images