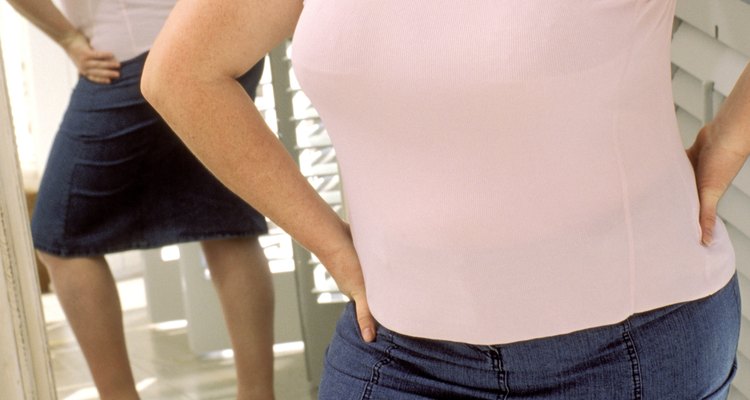 Pixland/Pixland/Getty Images
Dressing to disguise the unflattering parts of one's figure can be a challenge. Many women try to hide their body fat under baggy, over-sized clothing, which usually has the opposite effect, making you appear larger The key is to accentuate your best assets, drawing attention toward your most flattering curves and away from your problem areas.
Choose shirts that visually balance your frame. If you have large hips and a bigger derriere, wear billowy shirts to balance you out. Draw attention to your small top half with V-necks and jewelry. If your stomach is your largest area, wear shirts with an interesting neckline or embellishment details at the top to draw attention away from your mid-section. An empire waist is universally flattering, since most women are their slimmest under their bust. If you're trying to hide a muffin top, an empire waist or a tiered shirt can help hide the bulge. Layering is another good technique to hide fat; the extra layers help smooth out lumps.
Opt for boot-cut or trouser-cut pants if the lower half of your body is larger. Avoid pleated pants, pants with large pockets and baggy, wide-legged pants. Avoid skinny jeans if you have curvy thighs and hips -- they'll create the silhouette of an ice cream cone. A-line skirts work well with a larger mid-section, as the bell shape helps create the illusion of an hourglass shape. If you battle with a "muffin top," avoid low-rise pants, which will push your fat up and out and make your muffin top appear even larger. Opt for mid- to high-rise pants so you can essentially tuck that muffin top in. For more casual days, yoga pants with the folded panel help hide a lumpy gut.
Wear black and other dark fabrics, which are visually slimming. If you paint a room in a dark color, it appears to shrink. In the same way, donning dark colors makes you appear smaller. Avoid bright, intense colors, which have the opposite effect. If you love color, opt for the less-intense versions such as maroon rather than pink or rust instead of orange. Or, wear that brightly colored blouse that you love under a dark suit. Single-color outfits tend to be slimming. If you want to wear two shades, wear the darker shade on your larger half.
References
Writer Bio
Based in Toronto, Christine Pillman has worked as a writer and editor since 1996. She has worked for Harlequin Enterprises, "Scott's" directories and "Boards" magazine. Pillman earned an honors B.A. in English from the University of Toronto, as well as a diploma in book and magazine publishing from Centennial College.
Photo Credits
Pixland/Pixland/Getty Images