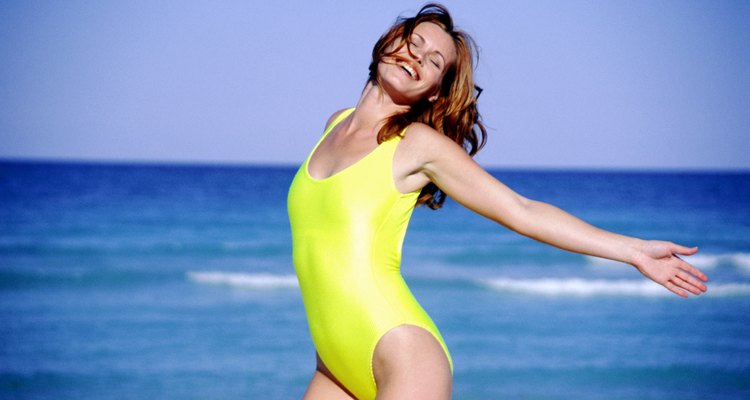 John Foxx/Stockbyte/Getty Images
Before you visit the bathing suit store this season, learn what swimwear styles and design details are able to flatter your figure without drawing unnecessary attention to your belly and thighs. The best suit for your body will help give you the appearance of a tighter midsection, all while visually lengthening and slimming your gams. Choose the right swimsuit to enhance what you've got, and you'll score both a cute suit and an extra dose of confidence.
Slimming Details
Certain design details will help your swimwear give you the appearance of a slimmer, trimmer figure. Some swimsuits feature hidden, built-in control panels, which tighten your middle much like shapewear does. Ruching or shirring in the midsection area also helps minimize a belly, while a skirted swimsuit works to camouflage larger thighs. If a skirted bathing suit isn't your style, look for a swimsuit with a higher cut at the legs, ideally with adjustable ties to allow for proper hip placement. This will visually lengthen your legs, which can also help them look thinner.
Colors and Prints
As with regular clothes, darker colored swimsuits have a slimming effect on your figure. Black is an effortlessly timeless choice, but if you'd like to try something with more color, look for swimsuits in deep tones like navy, maroon or dark plum. Avoid bold, oversized prints, which can emphasize and highlight trouble spots. Instead, choose a suit with a small pattern; just like solid-colored swimwear, dark patterns are more flattering than prints in bright or light colors.
Tankini Swimsuits
If you'd prefer to wear a two-piece swimsuit, look for a tankini, which gives you the same fun mix-and-match possibilities as a bikini but without being as revealing. Look for a tankini with a slightly flared or A-line top to skim your midsection without clinging to your belly. As with one-piece swimsuit styles, stick with darker colors and small patterns, and look for details like ruching to keep your trouble spots looking trim.
Cool Cover-Ups
A cover-up is an always-chic way to disguise problem areas without sacrificing your beach style. A full-length caftan in a sheer, patterned fabric is an ultra-glam option, or achieve the same coverage benefits in a more casual jersey maxi. A colorful tunic or a long, oversized button-down style cover-up are two other options that provide adequate coverage for your tummy and thighs.
References
Writer Bio
Katherine Mitt has been contributing to online publications since 2009, focusing primarily on fashion and style topics. She holds a B.A. in English from a small liberal arts school.
Photo Credits
John Foxx/Stockbyte/Getty Images