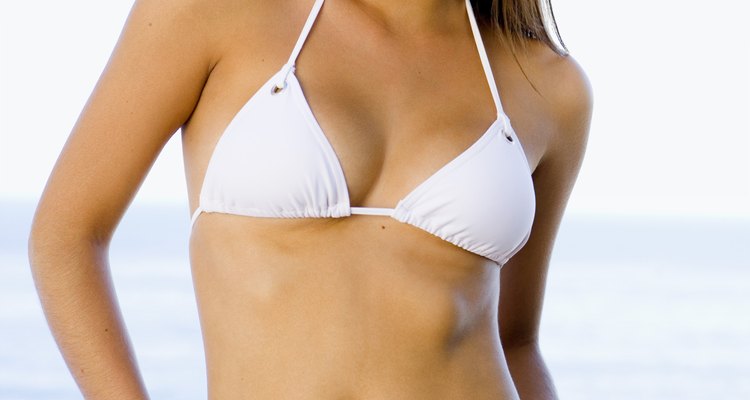 Goodshoot/Goodshoot/Getty Images
Buying a bikini for your babe doesn't have to be daunting. Take your time while swimming in a sea of tops and bottoms, and you can easily make the right decision while shopping. However, it's important that you shop knowing her clothing size, favorite colors, what clothing styles she likes and which body parts she likes to accentuate -- or hide. This knowledge gives you a leg up during your bikini search. Pay attention to these things and soon you'll sigh a wave of relief when you find a bikini that's both flattering and fashionable.
Size Matters
Shop knowing your girlfriend's clothing size. While swimsuit brands have their own size charts, generally speaking a girl who wears a size 0 to 6 clothing is a small, 8 to 12 is a medium and 14 to 16 is a large. There are also petite and plus-size suits as well. Talk to the salesperson and get the layout of the store before shopping.
Cut to the Chase
Know your girlfriend's personal style before you shop. A girl who bares skin easily might readily go for a thong or G-string bikini, while someone with more modest tastes would be happy in board shorts and a tankini top. A bandeau or triangle top with a little center knot creates a nice bust line for smaller-busted girls; a girl with a bigger cup size could use a heavy underwire in a halter or off-the-shoulder top. Just make sure to balance the top with bottoms featuring some flirty details like ruffles or ruching. In addition, high-cut bikinis elongate the shorter gal's legs, while a bikini band helps hide muffin top.
Playful Patterns and Colors
A fun pop of color and a playful pattern can turn a blah suit beautiful. If your girlfriend is bottom heavy, choose a solid candy-colored bottom without details or extra fabric. This shifts the eyes upward to her top and face. Slimmer gals look good in bold geometric patterns, graphics, paisleys and florals. Keep in mind things like color-blocking, which is a useful way to break up a long torso, and neon colors, which complement tan or dark-skinned gals.
It's in the Details
Refer to your girlfriend's body type to figure out where the swimsuit detailing should be. Smaller-chested girls look good with ruching, layered fabric and fringe that help give the bust area a lift, while bigger-busted gals can go for cleaner, more streamlined lines on top. Any size girl can wear fun embellishments such as cute cut-outs on the bottom, jewels encrusted on the top and interesting embroidery. Look for swimsuit detailing like the ones she likes on her clothing, such as metallic accents, studs or little ties and bows.
References
Writer Bio
Based in Los Angeles, Lisa Finn has been writing professionally for 20 years. Her print and online articles appear in magazines and websites such as "Spa Magazine," "L.A. Parent," "Business," the Famous Footwear blog and many others. She also ghostwrites for mompreneurs and business owners who appear regularly on shows such as Ricki Lake, HGTV, Carson Daly and The Today Show.
Photo Credits
Goodshoot/Goodshoot/Getty Images