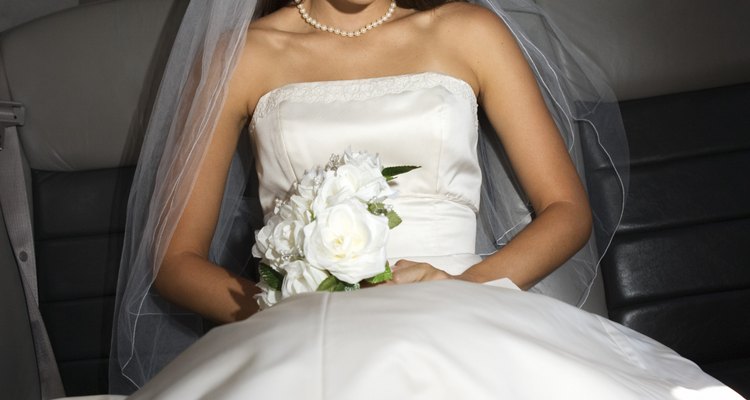 Jupiterimages/Comstock/Getty Images
For a woman who has dreamed about marriage since she was a child, her wedding day represents a significant turning point in her life. Even if a bride cannot lose weight before her wedding day or expects a child, she can present the best image of herself to friends and families. A bride must spend extra time and money to hide her stomach by carefully selecting her wedding dress and highlighting other parts of her body.
Undergarments
A bride can purchase elastic shapewear which she can put on underneath her dress to more evenly distribute belly fat across her midsection. She can purchase shapewear that slims her waist and sides but also thigh slimmers that will redistribute weight on the lower parts of her body. A pregnant woman can purchase shapewear called belly bands to help cover her stomach during the early months of her pregnancy.
Appearance
A bride can distract wedding attendees from her stomach by emphasizing other parts of her body, such as her face, cleavage and hair. She can choose a voluminous hairstyle, let her hair down, use pushup undergarments and have makeup applied by a professional to take the attention of viewers away from her stomach and focus it on other parts of her body.
Fabric
Wedding dress fabrics come in different thicknesses and weights. Heavier fabrics will cling to curves, making a large waistline noticeable. Heavier fabrics can also cause a bride to perspire. Pear-shaped brides should purchase a gown made from a lightweight chiffon or tulle fabric instead of taffeta or satin.
Cut
A bride with a pear-shaped figure should never select a mermaid or sheath cut dress. A-line dresses and ball gowns work best to hide weight and pregnancy. A bride with a pear-shaped figure should select a broad-shouldered dress with a fuller bust to emphasize her shoulders and chest. Wedding gowns come in either vertical or horizontal patterns. A horizontal dress contrasts the figure of a bride, highlighting her stomach, and a vertical dress streamlines her figure, making her look thinner.
Accessories
A pear-shaped bride should choose a wedding dress design that features ruffles or folds, which creates a fuller look to her dress and hides her stomach. Lace and sequins on a wedding dress distract the eyes of onlookers, making them less likely to notice a bride's midsection. A dress with additional fabric, such as one that features full arms and a long train, further remove focus from the waistline of a bride.
References
Writer Bio
Chris Hamilton has been a writer since 2005, specializing in business and legal topics. He contributes to various websites and holds a Bachelor of Science in biology from Virginia Tech.
Photo Credits
Jupiterimages/Comstock/Getty Images