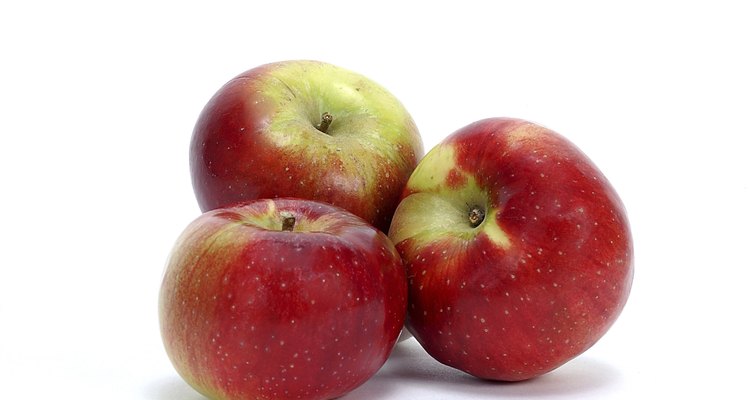 Ablestock.com/AbleStock.com/Getty Images
Choosing styles that flatter your body type will make the most of your figure, accentuating your best features and distracting from those you dislike. If you carry your weight through your midsection or belly and have slender legs, you're likely considered to be "apple-shaped." To dress an apple-shaped body, you should draw attention to slimmer legs, ankles, collarbones and cleavage while flattering your midsection.
Wear proper undergarments. Visit a lingerie shop or department store for a well-fitting bra to lift and support your bust. Invest in slimming shapewear camisoles to reduce bumps, lumps and muffin top.
Choose tailored trousers with a side zip and no front detailing. Opt for a higher waistline to tuck in your tummy. Opt for a straight leg or wide leg jean or trouser, rather than a skinny jean.
Look for tops and dresses that drape over the belly area, avoiding anything too snug-fitting or clingy. Try wrap-style tops that emphasize the slenderest part of your mid-section, right below the bust. Look for vertical detailing on tops and dressed to add height and draw the eye up the body. Wear open scoop, v-neck or square necklines that draw the eye upwards.
Look for hemlines that emphasize your shapely legs. Hem your skirts to knee length or just above the knee and indulge in pretty shoes to draw attention to your ankles and feet.
References
Writer Bio
With a master's degree in art history from the University of Missouri-Columbia, Michelle Powell-Smith has been writing professionally for more than a decade. An avid knitter and mother of four, she has written extensively on a wide variety of subjects, including education, test preparation, parenting, crafts and fashion.
Photo Credits
Ablestock.com/AbleStock.com/Getty Images