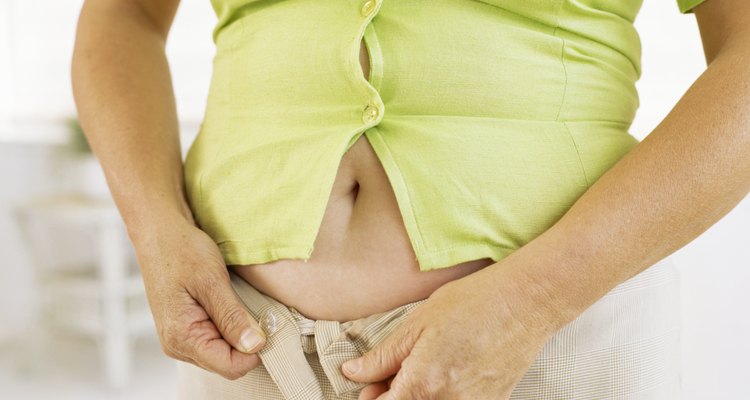 Stockbyte/Stockbyte/Getty Images
Whether you have a little muffin top you can't get rid of or excess fat from a recent pregnancy, a big stomach can make you feel extremely self-conscious and reluctant to go out. Women especially have a hard time dealing with belly bulge after having a baby and during middle age, according to MayoClinic.com. Belly fat can be hard to lose; in the meantime there are wardrobe solutions that will effectively hide your stomach in convenient and stylish ways.
Wear a flattering top. An empire waist top or dress has a hemline just underneath your bust, allowing the rest of the material to flow loosely over your stomach. A banded top has is loose-fitting around your stomach and hangs down slightly over a tight band at your waist, allowing you to hide your stomach, but still show off your curves.
Wear shapewear underneath your outfit. Many undergarments are available that will hold in your stomach and thighs so that your clothes look better. Shapewear works well when you need to fit into a fitted dress for a special occasion.
Wear black; it is almost always slimming and helps to disguise belly pouch, so long as the outfit is not too tight.
Wear high-waisted jeans as they can act as shapewear to help hold your stomach in. Choose those made with front panels designed specifically for hiding stomach bulge.
Writer Bio
Based in Los Angeles, Zora Hughes has been writing travel, parenting, cooking and relationship articles since 2010. Her work includes writing city profiles for Groupon. She also writes screenplays and won the S. Randolph Playwriting Award in 2004. She holds a Bachelor of Arts in television writing/producing and a Master of Arts Management in entertainment media management, both from Columbia College.
Photo Credits
Stockbyte/Stockbyte/Getty Images