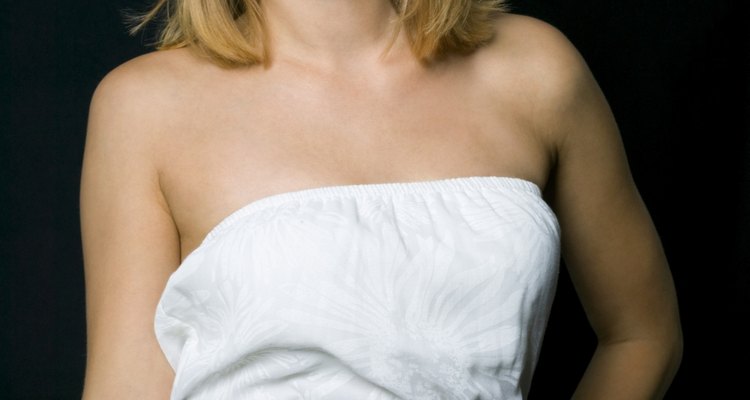 Creatas Images/Creatas/Getty Images
If you are dieting and exercising to lose weight from your midsection, it may take a while before you start seeing noticeable results. Until you get the desired results, you can dress to create the illusion of having a smaller waist. The key is to focus on the parts of your body that you like and to choose clothes that flatter your current body.
Put on the shapewear under your clothes. Shapewear has a built-in control panel that tucks and streamlines your belly. Women can wear control panties or shorts and men can wear girdles or compression shirts.
Wear a belt to accentuate your waist for an instantly slimming effect. Dresses and jackets that are tied or belted at the waist have a similar effect.
Wear one-colored outfits because these have an all-over slimming and lengthening effect. Opt for darker colors because these are slimming. If you want to wear multiple colors, go for a dark color on the bottom and a lighter colored top.
Avoid clothes that are too tight around your waist because these may cause extra belly bulges and accentuate your protruding belly.
Don tops whose waistline sits underneath the breasts and that flare out over the belly, or consider wrap-style tops. These both hide thick waists and make you look slimmer.
Avoid tucking in your top because this draws attention to your waist. Whether you are a man or woman, wear tops that are form-fitting, but not too tight. Allow the top to fall naturally over your belly.
Draw attention to other parts of your body to take the focus off your waist. Wear bold earrings and necklaces or tops with a ruffled collar to draw attention away from your belly and onto your upper body. Carry a large bag, as a small bag makes your body look bigger.
References
Writer Bio
Kimberly Caines is a well traveled model, writer and licensed physical fitness trainer who was first published in 1997. Her work has appeared in the Dutch newspaper "De Overschiese Krant" and on various websites. Caines holds a degree in journalism from Mercurius College in Holland and is writing her first novel.
Photo Credits
Creatas Images/Creatas/Getty Images