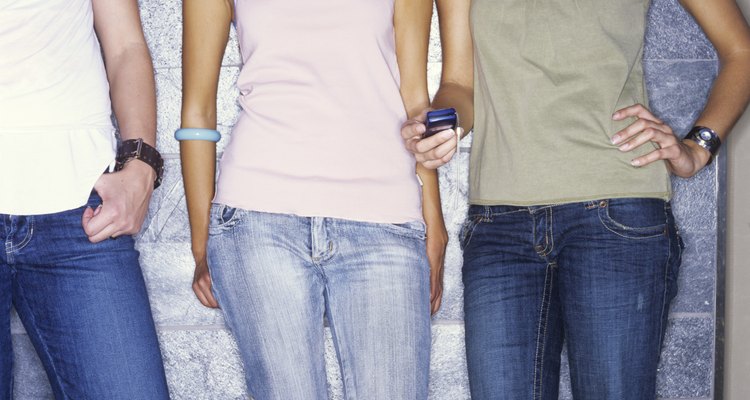 George Doyle/Stockbyte/Getty Images
If you have a short torso and long legs, you may dread shopping for the perfect pair of jeans. There's no need to fret. Jeans with the right fit can make your torso appear longer. Make sure not to wear shorter styles that cut off your legs. Instead, look for flattering jeans that elongate your top and lower half.
How to Look Long
Pair longer jeans with high heel shoes or boots to draw the eye down and make you appear taller overall. Wear slim belts in neutral tones and below your natural waist. Jeans in darker tones are slimming and lengthening. Top off your jeans with a shirt or blouse that falls below your waistline, or wear the shirt untucked. This will hide your waist and elongate your torso. Be on the look out for longer tops with vertical detailing and jeans with long pockets.
Low Rise
Pay particular attention to the rise of your jeans. Rise is the length in pants between the waistband and the crotch, and certain styles offer the illusion of a lower waistline and draw attention to your long legs. A low-rise jean with a longer hem-length elongates your torso and legs. High-waist jeans will make your torso appear shorter, lending a dowdy look. Avoid jeans with an extremely low or high rise. The fit should complement your figure while feeling comfortable.
Boot Cut
Jeans with a medium boot cut leg are a great choice for women with short waists. The slight flare at the bottom will make your body look more proportioned. Boot cut jeans balance the width of your shoulders and hips (if they are wider), making your torso appear slimmer and longer. Avoid jeans that are tapered at the ankle or that are too flared, like bell-bottoms.
What to Avoid
Avoid high-waist styles and jeans with details around the top. These features will make your torso appear even shorter.
Wide belts in standout colors will cut you in half and make you look shorter.
Cut off lengths, such as capris, shorten the appearance of your legs. If you do opt to wear shorter-length pants, especially in warm-weather months, pair them with shoes that give you some height, such as sandals with a wedge heel.
References
Writer Bio
Kathy Karadza is a professional writer and editor who has worked in fashion and costumes in television, film and on Broadway. She holds a B.A. in drama, an M.A. in theater history and a professional certificate in creative writing from New York University.
Photo Credits
George Doyle/Stockbyte/Getty Images