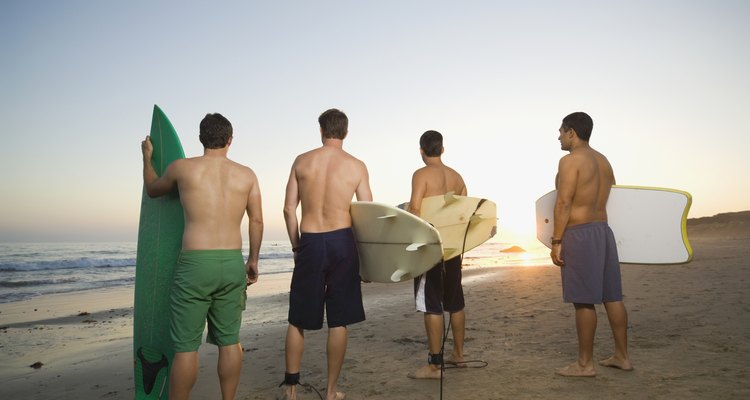 Erik Isakson/Blend Images/Getty Images
Men's swimsuits aren't one-size-slims all; while your options range from capri-like board shorts to tiny briefs, classic surf trunks are your best bet for slimming and trimming. This look has been around since the heyday of surfing in the '60s and hasn't gone out of fashion since. Steer clear of boxy and baggy shorts that dominated the '90s -- shorter suits that fit more closely help you nail a leaner look.
The Surf Trunk Solution
Surf trunks hit the ideal middle-ground between too short and too long. If you're looking to conceal a little extra baggage, a tiny mankini is definitely not your best bet. And as comfy as they are, board shorts and oversized trunks make your shins look shorter, giving you a wider appearance. Surf trunks, which have a moderate length and a closer fit, lengthen the legs and lend the body an athletic aspect.
Trim With Fit
If you have a few extra pounds, it may seem natural to don a long, baggy swimsuit to look thinner. For a slim look, however, you should do just the opposite. Go with well-fitted -- but not overly tight -- leg openings and a hem that hits a few inches above the knee for a look that's sleek rather than billowy. To trim down the stomach, opt for trunks with a higher waistband. Short guys can pull off shorter trunks, which help elongate the legs even more.
Colors Count
A swimsuit is like a tuxedo in at least one way -- you can't go wrong with black. This classic shade has a time-tested slimming effect. On the same token, stay away from bold prints, horizontal stripes and vivid colors, unless you want to attract attention to your rippling abs. Instead, go subtle -- dark vertical stripes slenderize the frame.
More Trunk Tips
No matter what sort of suit you go for, steer clear of trunks with an elastic waistband, which cinches the waist to create a muffin-top effect. Flat fronts, Velcro flies and lace ties help you avoid this issue. If you're nervous about sporting slightly shorter swimwear, seek a pair with racing stripes on the side. This fools the eye into viewing the shorts as longer, but you still reap the leg-lengthening, slimming benefits.
References
Writer Bio
With a diverse professional background and a decade of experience as a freelance writer, Dan has contributed lifestyle content -- from fashion to travel to fitness and more -- to publishers including Chron, Fortune, Sony, GlobalPost, ModernMom, Moviefone, Salon.com, Techwalla and dozens of others.
Photo Credits
Erik Isakson/Blend Images/Getty Images