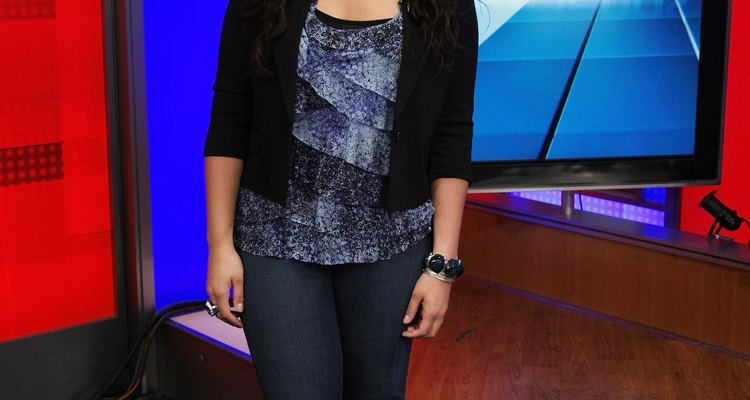 Neilson Barnard/Getty Images Entertainment/Getty Images
If you're a more full-figured lady or have the proverbial "junk in the trunk," you can dress to impress with clothing styles for big butts. Having a curvy backside doesn't mean that you have to hide in frumpy get-ups or stand with your backside against a wall. You can take a cue from current styles, while still incorporating your own body type, and choose appropriate clothing for your rounder assets.
Curvy-Fitting Jeans
While jeggings and skinny jeans are popular choices, these options won't cut it if you have a big butt. Certain shapes of jeans will complement a curvier figure. For example, a low-rise flare jean -- according to "Women's Health" magazine -- can showcase your hourglass shape. Likewise, jeans labeled "curvy" styles are made to fit around fuller figures and will play up your butt instead of hiding it hiding it behind baggy or super-loose fitting jeans. Just be careful to steer clear of embellished pockets, as the extra ornamentation will add unwanted bulk to your behind.
Dresses
The fashion and beauty experts at "Glamour" magazine note that a patterned color-block dress can help to camouflage a larger posterior. Instead of always opting for a supposedly slimming black frock, you can use blocks of colors or bright patterns on the top to draw the eye upwards. Additionally, avoid ultra-tight fitting dresses or super-short minis that may not leave much to the imagination. Replace those styles with cute cinched-waist versions that have a flowing skirt and belted middle, or try a pleated skirt. This will hide your butt and highlight your waist, while still letting you look cute and comfortable.
Swimsuits
Don't miss a day at the beach or pool because you feel that your big butt isn't swimwear friendly. If you're a two-piece type of girl, opt for a high-waisted brief that provides full coverage or a bikini with a top-side pattern that brings the eye up and away from your backside. Another option is to choose a two-piece with different sizes in the top and bottom. Since a one piece might have an ill-fitting look, opt for a mix and match suit that features two separate sizes.
Outerwear
Just because you can opt for a floor-length parka when the weather turns colder doesn't mean that you have to or should. Instead of hiding your body during the fall and winter months, show it off with a belted trench. The fashionistas at "Marie Claire" magazine suggest belting a trench, or a similarly styled coat, as a way to maximize the curvy girl's waist while minimizing the posterior area. If the mercury dips too low and a trench just won't keep you warm, opt for a wool version that comes with a side-cinching belt. Another option is to camouflage what you don't want people to see with a flowing cape coat. This provides style, while still keeping eyes off of your backside.
References
Writer Bio
Based in Pittsburgh, Erica Loop has been writing education, child development and parenting articles since 2009. Her articles have appeared in "Pittsburgh Parent Magazine" and the website PBS Parents. She has a Master of Science in applied developmental psychology from the University of Pittsburgh's School of Education.
Photo Credits
Neilson Barnard/Getty Images Entertainment/Getty Images