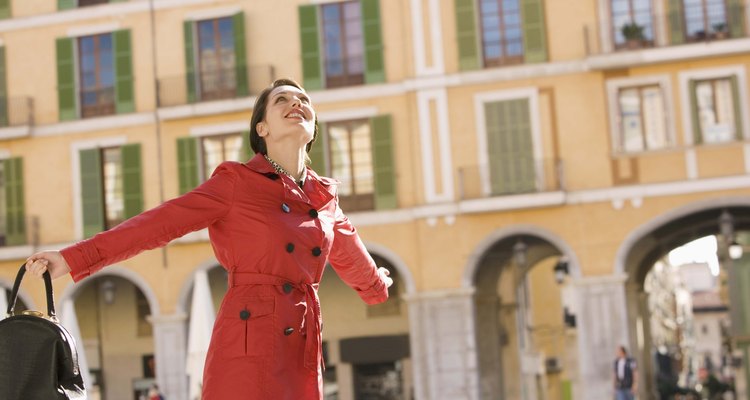 Jupiterimages/Brand X Pictures/Getty Images
The trench coat is a versatile and basic topper that complements almost every outfit from casual dresses to business suits. If you have an ample bosom, no matter what your shape or size, you can wear a sleek and chic trench coat. Whether you prefer classic Burberry trenches or sleek London Fog coats, you can find a great tailored trench coat to flatter your bust using a few expert styling tricks.
Double-breasted Trench Coat for Tall Women
The best double-breasted trench coat for tall women will have a belt to create emphasis at the middle of your body and draw the eye away from the bust. Your trench's belt should be long enough to tie in a half-bow at the waist or in a loose knot. Select a coat length that falls below the knee to balance your long legs and height. For a look that is fresh and on trend, pair your emerald green or fuchsia pink coat with tapered white pants, a simple silk green blouse or a white pencil skirt.
Single-breasted Trench Coat for Plus-sized Women
To slim your figure, the editors at "Real Simple" magazine suggest you skip any coats with epaulets, bold buttons or shoulder flaps. A single-breasted coat with small lapels and vertical seaming won't add bulk to your curvy frame. This trench style is perfect for plus-sized women with big busts because the topper puts focus on your neckline, instead of your bosom. A classic tan trench coat gets a modern update with a pair of red and white polka-dotted sunglasses and a red and white striped umbrella.
Trench Coats for Big-busted Petites
Yes, you can wear a single-breasted or double-breasted trench coat if you are a petite with a large bust. To flatter your small frame and give you the illusion of height, choose coats that are three to four inches above the knee instead of the classic three-quarter length style. Select a classic trench with a belt to draw attention to your teeny-tiny waist. Give your trench coat a shot of style by pairing it with jeans and a chambray shirt for weekends or a simple shift and pumps for work.
Solid-colored Trench Coat
If you have a full bust and broad shoulders, skip the houndstooth, plaid or striped trench coat. A coat featuring bold patterns and shoulder pads amplifies your bosom, instead of minimizing it. Whether you are plus-sized tall or plus-sized petite, pick a coat in a solid color that complements your skin tone and features enough fabric to glide over your curves. To add pep to rainy days, include feminine touches to your coat such as bold and sleek leather gloves, colorful rain boots and a top-handled, structured handbag.
References
Writer Bio
Mimi Abney is a lifestyle writer specializing in online content for women. Her work has appeared in NewsOK.com and "Keepsake Magazine," among other publications. With over 15 years of writing and editing experience for the web and print, Abney is also a contributor to online health, beauty and fashion publications. She holds a Bachelor of Science in biology from Spelman College.
Photo Credits
Jupiterimages/Brand X Pictures/Getty Images