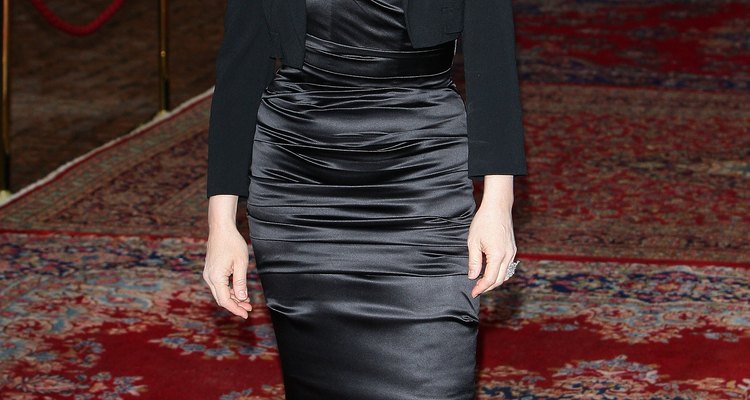 Vittorio Zunino Celotto/Getty Images Entertainment/Getty Images
For an evening out or a festive party, a sexy satin tube dress can certainly turn some heads. If you're wearing your dress on a cool evening or aren't comfortable showing a lot of skin, you may want to pair it with a jacket for extra coverage. Since a satin tube dress has such a distinctive look, choosing a jacket that allows the dress to shine is usually the best option. But if you really want to stand out, pair it with a jacket in a notice-me fabric or style.
Go Cropped
Unlike most jackets that hit at the waist or hips, a bolero is cropped high -- usually at the rib cage -- so it won't cover up too much of your tube dress or add bulk to its slim silhouette. Bolero jackets are available in both long- and short-sleeved varieties so you can choose a style based on the season. If you want to keep your satin tube dress the center of attention, opt for a bolero jacket in a neutral color like black or gray. However, you can also find boleros in bold colors like red and purple or with embellishments like beads and sequins to jazz up a plain frock.
Go Tailored
Pair your satin tube dress with a tailored blazer to add polish. While you may think of blazers as strictly office wear, a fitted style can look sexy and chic buttoned over your dress. A cropped style that ends just above your hips is an attractive option that allows you to show off a little more of your satin dress. In the fall and winter, try a rich velvet blazer in a dark color like black or midnight blue to create an interesting contrast in texture.
Go Edgy
Instead of pairing your tube dress with a traditional evening jacket, give your dress a little rock and roll flavor by pairing it with a classic motorcycle-style leather jacket -- you can create a real contrast between the sumptuous satin and the leather by choosing a studded jacket. But you don't have to go with a traditional black leather jacket. Instead, pair your dress with a modern leather jacket with straight lines and quilted details in a color like cream or gray to soften the look.
Go Casual
For an unexpected outfit, pair your satin tube dress with a denim jacket. The contrast between the formal satin and casual denim creates a striking look that's ideal for date night or an evening with friends. Opt for a fitted jacket with some stretch to create a lean, sexy silhouette that showcases your curves. Denim is relaxed as is, so choose a dark-wash denim jacket for a bit more polish. You can also go for a rough-around-the-edges vibe by wearing a distressed denim jacket over your dress, or give the look a modern twist with a collarless denim jacket.
References
Writer Bio
Based in New York City, Jennifer Blair has been covering all things home and garden since 2001. Her writing has appeared on BobVila.com, World Lifestyle, and House Logic. Blair holds a Bachelor of Arts in Writing Seminars from the Johns Hopkins University in Baltimore, Maryland.
Photo Credits
Vittorio Zunino Celotto/Getty Images Entertainment/Getty Images