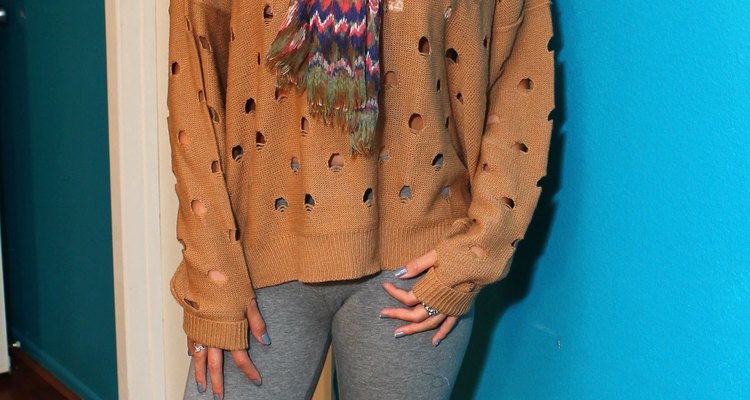 Alexandra Wyman/Getty Images Entertainment/Getty Images
The appeal of the boyfriend sweater is pretty obvious -- it's comfortable and relaxed for those times when you want a simple, easy outfit. These days, you don't even have to steal an oversized sweater from your boyfriend's closet to get the look; boyfriend-style sweaters are available in the women's department so you can get a more flattering cut for your curves. Wear your boyfriend sweater with pieces that create a long, lean line for your body so you look perfectly chic and slouchy -- not sloppy.
Go Skinny
Since a boyfriend sweater has a loose, slouchy fit, pair it with pants that have a slim fit to balance your silhouette. Skinny jeans are an ideal option since they have the same casual, relaxed look as the sweater. Choose dark-wash or black jeans to work with nearly any color sweater. Add ballet flats, tennis shoes or boots for a comfortable weekend outfit. If your boyfriend sweater is long, you can also pair it with leggings -- just make sure that the sweater covers your backside.
Make It Flirty
With its loose fit, a boyfriend sweater may not seem like the sexiest top in your wardrobe -- but you can dress it up for a night out on the town by pairing it with flirty skirts. Since the sweater has a modest look, it's an ideal top to wear with a miniskirt. Pair it with a leather mini and ankle booties or opt for a denim miniskirt and ballet flats. If you don't want to feel so exposed, add textured tights for a little more coverage. You don't need to go super short with your skirt, though. A slim-fitting pencil skirt that hits at the knees can also work well with a boyfriend sweater.
Layer It
Pullover crewneck and V-neck styles aren't the only option when it comes to boyfriend sweaters. A boyfriend cardigan can be a versatile layering piece in your wardrobe -- you can wear it with skinny jeans and leggings or over a slim-fitting dress. But when you're choosing a top to wear under your cardigan, you should opt for a top with a snug fit so it doesn't add any bulk to the loose cardigan. Choose a stretchy tank top, camisole or fitted tee for the most flattering look.
Add Accessories
The right accessories can make all the difference in keeping your sweater from veering into sloppy territory. Its loose fit doesn't always offer the most polished appearance, so you may want to cinch your boyfriend sweater with a belt. Spice up a plain black boyfriend cardigan with a hot pink patent-leather belt or add a cheetah-print belt to a white boyfriend V-neck sweater and skinny jeans to make the look a bit more interesting. The right necklace can also add a feminine touch to your boyfriend sweater. Choose a long style to help elongate the look of your body, like a colorful strand of beads or a long chain with an oversized pendant.
References
Writer Bio
Based in New York City, Jennifer Blair has been covering all things home and garden since 2001. Her writing has appeared on BobVila.com, World Lifestyle, and House Logic. Blair holds a Bachelor of Arts in Writing Seminars from the Johns Hopkins University in Baltimore, Maryland.
Photo Credits
Alexandra Wyman/Getty Images Entertainment/Getty Images