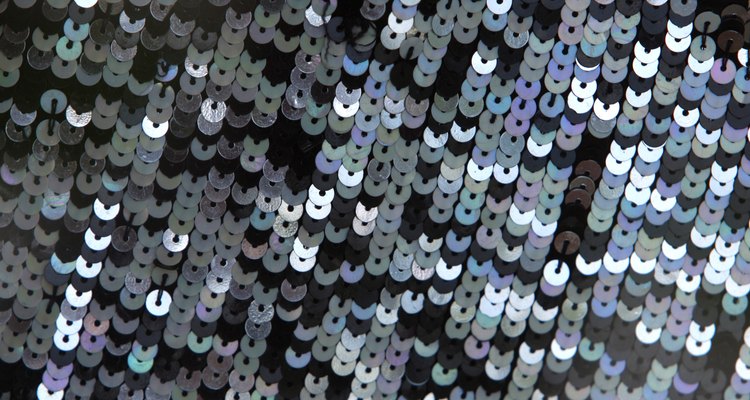 Hemera Technologies/AbleStock.com/Getty Images
While plain leggings are the ultimate garment for casual wear, a sequin pair can add a little glamor and style to your outfit. But when you're wearing such a striking pair of pants, it can be difficult to figure out what top to style with it. When you're rocking sequin leggings, the same rules apply that would with regular leggings -- balancing your silhouette is key. However, you also need to balance the amount of flash in your outfit so your shirt doesn't wind up competing with the high shine of your leggings.
Let's Talk Tunics
A classic tunic top is an ideal option with leggings because it is long and has loose fit that creates a balanced silhouette with the tight-fitting pants. When you're wearing sequin leggings, choose a simple tunic so the pants are the focal point of the outfit. Avoid tops that have flashy embellishments like beading or studs. If your sequin leggings are a bold color like red, cobalt or purple, opt for a tunic in a neutral color like black, white or gray. However, when you're wearing leggings with neutral colored sequins, you can pair them with a tunic in a bolder color like magenta or turquoise.
About A Button-Down
Sequin leggings have a glamorous, dressed up feel, but pairing them with a polished button-down can help make them wearable during the day. Go for a classic look by choosing a white button-down shirt with your leggings. Or, if your leggings are a neutral shade like black or navy, try a richer color like cobalt or cranberry. Always make sure that your button-down is long enough to cover your backside. If the shirt is a little too oversized to flatter your figure, cinch the button-down with a simple leather belt to help define your waist.
Better With A Sweater
Another way to make sequin leggings more suitable for the day is to pair them with the ultimate in comfortable, casual wear -- a cozy sweater. However, to make sure that your top is long enough to cover your backside while wearing tight leggings, opt for a boyfriend style sweater that has a long, slouchy fit to balance out the leggings. A V-neck boyfriend sweater is an ideal option if you want to elongate your frame, but you can also opt for a crew neck or off the shoulder style.
Sheer Meets Sparkle
When you're rocking your sequin leggings for an evening out, you may want a top with a little sex appeal. A long, sheer blouse is an ideal piece to pair with the leggings because the delicate look of the sheer material creates a striking contrast with the heavy, textured look of the sequins. Pair your sheer top with a long tank top or camisole to keep yourself covered up. However, if your blouse is not exactly transparent and you're feeling daring, you can also wear it with just your bra underneath for a bold, sexy look.
References
Writer Bio
Based in New York City, Jennifer Blair has been covering all things home and garden since 2001. Her writing has appeared on BobVila.com, World Lifestyle, and House Logic. Blair holds a Bachelor of Arts in Writing Seminars from the Johns Hopkins University in Baltimore, Maryland.
Photo Credits
Hemera Technologies/AbleStock.com/Getty Images