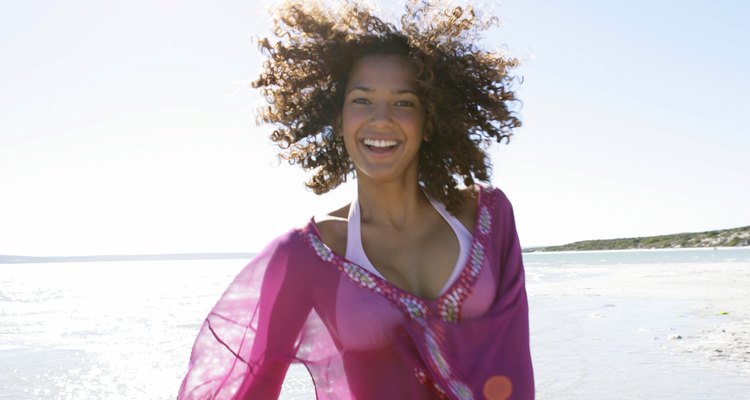 Goodshoot/Goodshoot/Getty Images
Whether you're digging a pit on the beach or using the grill in your backyard, a clambake is a fun, festive way to celebrate in the summer months. But because clambakes tend to have a relaxed, low-key vibe and often involve hanging out in the sand, finding the right outfit for your seafood fest can be challenging. The trick is choosing comfortable, casual pieces that still give you a polished feel -- and it never hurts to draw a little inspiration from the sea itself.
Go Nautical
A clambake is the perfect occasion to rock a nautical look, and nothing says sailor-inspired like stripes. Go for a classic look with a white and navy pattern -- a striped T-shirt, tank or boat neck sweater can work well for your party. You can also opt for a white and navy striped sundress or maxi skirt for a more dressed up look. If you want a slight twist on traditional nautical stripes, choose red and white or red and navy stripes instead. Wear a red and white striped tunic top or a navy and red striped bathing suit for the clambake.
Keep It Short
For a clambake on the beach, you don't want to wear full length pants that can get wet and sandy -- cropped pants are a much better option when you're sitting at the shoreline. Denim or khaki capris can work with virtually any color or patterned top, so they're a versatile choice. You can also opt for even shorter pants like a clam digger style that ends just a few inches below the knees. If your clambake is during the day when it's warm, Bermuda shorts can you help stay even cooler. Look for a pair with a whimsical embroidered pattern that fits the beach theme, such as fish, seashells, sailboats or crabs.
Cover It Up
Since clambakes usually take place on a beach, you may want to stay casual and just wear your bathing suit to the festivities. But if you don't want to sit around exposed all day, choose a stylish cover-up to wear over your suit. A sheer tunic style cover-up is an ideal option if you still want to show off some of your suit -- a white, navy or red tunic can help keep up the nautical theme. You can also opt for a tube style dress in cotton or terrycloth or a sarong that easily wraps over your suit. For a low-key, relaxed look, throw an oversized button-down shirt on over your suit.
Put Your Best Foot Forward
Choosing the right shoes for a clambake on the beach can be tricky. Heeled sandals and wedges won't work because you'll be sinking into the sand the entire time. If you're dressing up, traditional boat shoes are an attractive, practical option. Flat gladiator style sandals with gold hardware can give your clambake outfit a polished look. For a more casual style, basic white or navy tennis shoes can work well. If you're really dressing down, though, you can't go wrong with simple flip-flops that match your outfit.
References
Writer Bio
Based in New York City, Jennifer Blair has been covering all things home and garden since 2001. Her writing has appeared on BobVila.com, World Lifestyle, and House Logic. Blair holds a Bachelor of Arts in Writing Seminars from the Johns Hopkins University in Baltimore, Maryland.
Photo Credits
Goodshoot/Goodshoot/Getty Images