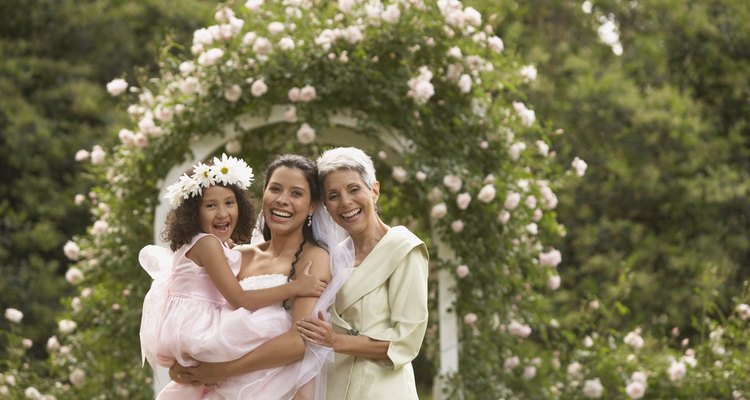 Ariel Skelley/Blend Images/Getty Images
Any bride is lucky to have her grandmother present on her wedding day. Grandparents of the wedding couple are often captured in formal and candid photos throughout the event, so you'll want to look and feel your best on your granddaughter's special day. A modern ensemble that suits your taste, the season, venue and formality of the wedding is sure to make you sparkle in every photo.
Know the Role
Grandmothers of the bride are often asked to not only participate in formal photos but also lead the processional. Walking down the aisle to take your seat for the ceremony means all eyes will be on you. Your ensemble, whether it be a dress, suit or separates, should be in a shade that best complements your coloring. For example, if you are very fair, stay away from cool, neutral shades that could wash out your complexion. Have your hair and makeup professionally done, and take extra care to ensure your ensemble is tailored impeccably. Your extra polish will distinguish you from other guests.
Dress for the Season
For warm summertime weddings, heat can be an issue, so choose a breathable fabric. Look for natural fibers like cotton and linen that are blended with a bit of Spandex or Lycra for stretch. Going sleeveless is also an option; just make sure you are comfortable and the look is not too revealing. For a winter wedding, one of the best options to look chic and stay warm is a tailored coat. You can wear statement wool or tweed coats all day over a nice slim trouser or dress with opaque tights and leather shoes. This type of ensemble keeps you both dressy and cozy.
Complement the Venue
Take the venue into consideration. For challenging outdoor terrain, shoes are the most important factor. Dressing for a beach wedding can present issues, since walking through sand can be difficult. A flat shoe or sandal that can slip off to remove sand is a big help. An outdoor event such as a garden wedding that requires walking through grass means no heels. If you want some extra height, find a wedge heel with a flat base. Indoor venues such as churches, halls and hotels make dressing easier. A pant suit, skirt suit or cocktail dress is always appropriate.
Match the Time of Day
If the bride has chosen a daytime wedding, your attire should reflect this and be less formal than for an evening wedding. A tailored skirt or pant suit in soft neutrals like taupe, lavender or pink looks lovely for lunchtime weddings. Add a complementary hat to the ensemble for that extra classy touch. Richer colors like burgundy, navy blue or forest green make a statement for evening wedding attire. A floor-length skirt or dress is only required if the evening wedding is black tie. Otherwise, a dress and shawl or suit is always appropriate. Add accessories like statement jewelry and heels to make your look more fancy for evening.
References
Writer Bio
Marie Sporich is a SoCal native, classical ballerina and devoted Yogi. She holds an A.A. in product development and B.S. in business management from the Fashion Institute of Design and Merchandising. She has spent nearly 10 years in retail, is a published writer and certified wedding planner.
Photo Credits
Ariel Skelley/Blend Images/Getty Images