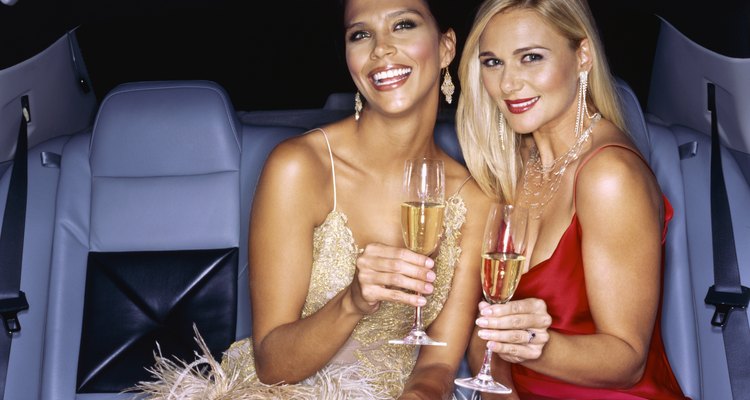 George Doyle/Stockbyte/Getty Images
Choosing an outfit for an evening soiree is much more fun than dressing in everyday office garb. Evening wear refers to formal or semi-formal attire generally worn after 5pm. Take the specific occasion into consideration to help clarify which way to go with a formal or semi-formal ensemble. Different cocktail outfits work for date nights compared to holiday parties, while a black-tie optional wedding may warrant something more understated than a night at the opera.
Date Night Cocktail Attire
Whether it's a first date or hundredth date, going out for a romantic night at a fancy restaurant calls for cocktail attire. This less-formal evening-wear option is most appropriate when simply going out on the town, rather than to a hosted event. Options for guys include tailored slacks in dark gray, black or navy paired with a collared button-up shirt. Jackets and ties are optional depending on the season or restaurant requirements. Ladies should go for a simple cocktail dress or blouse with a skirt or dress pant. Cocktail dresses should be well tailored and have a hemline no higher than a few inches above the knee. Dress pants should be a slim cut in black twill or a wide, flowing leg in silk or satin.
Semi-Formal Parties and Gatherings
Common semi-formal events include holiday and engagement parties. Guys can mix and match their favorite suit by pairing black trousers with a sleek maroon velvet dinner jacket. A bold tie or patterned shirt can also personalize a basic suit. Women should try to stick with a knee or midi-length dress in a rich fabric like lace. Pair separates -- think a fitted cashmere sweater or embellished top -- with a pencil skirt and pumps. A black or very dark dress pant is also an option -- just make sure to dress up the look with accessories.
Black Tie Optional
Many black-tie optional dress codes are chosen at the discretion of the host. This gives guests the option to not buy or rent a tuxedo or gown, but still indicates a formal affair. Weddings and private corporate events are common occasions for black-tie optional attire. In lieu of a tux, guys can wear a black two- or three-piece suit with a crisp white shirt and black oxford or wing tip shoes. A classic striped tie or bow tie and cuff links polish the look. Ladies can opt for a knee- or midi-length dress and add statement or fine jewelry. Hair in an updo and high heels add drama.
The Formal Gala
Events like an opening-night gala at the opera or ballet calls for the most formal attire. Men are required to stick with the classic tuxedo, though white is just as appropriate as black. Bow ties must be worn with a white tuxedo shirt, and jackets can be a modern short style or long with coattails. A floor-length gown is essential for ladies, paired with high heels or evening sandals. Any sleeve length is acceptable, and sleeveless or strapless gowns can be worn with a silk shawl or shrug. Sparkling statement jewelry -- think crystal drop earrings or a choker -- and a metallic, beaded or jeweled clutch complete the formal evening ensemble.
References
Writer Bio
Marie Sporich is a SoCal native, classical ballerina and devoted Yogi. She holds an A.A. in product development and B.S. in business management from the Fashion Institute of Design and Merchandising. She has spent nearly 10 years in retail, is a published writer and certified wedding planner.
Photo Credits
George Doyle/Stockbyte/Getty Images