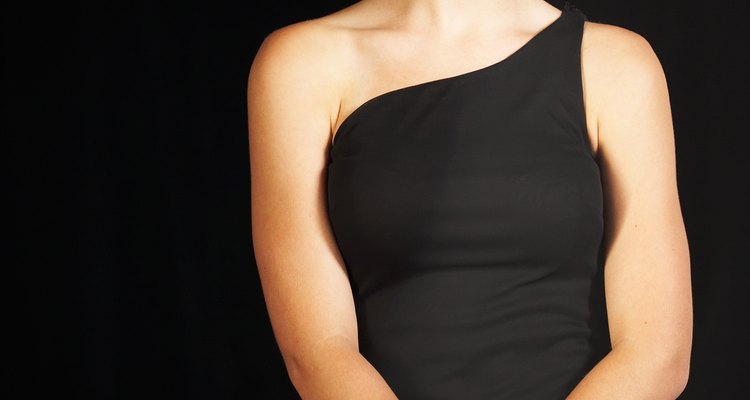 Jupiterimages/Photos.com/Getty Images
When an invitation arrives at your door with the word "semiformal" on it, don't shudder. While black tie dress is easy to define, semiformal is more ambiguous -- leaving you wondering whether you'll end up as a fashion don't, rather than a do. Look your best at the party of the year, an evening wedding or your office party in superb semiformal style.
Master Degrees of Formality
Semiformal typically means something between business casual and formal wear. While, officially, "evening semiformal" and "daytime semiformal" may be only a step below full formal wear, in most situations, semiformal, even for evening events, refers to dressed-up, party appropriate clothing for both men and women. Semiformal evening events, whether work or social, require slightly more formality than semiformal day wear.
Garbing the Guys
Men have it relatively easy when it comes to semiformal evening wear. A dark suit can go to any semiformal event with ease. For a cocktail party, pair your suit with a dark shirt or a color you love, worn with or without a tie. If you're attending an office event, your dress should be appropriate for your office climate. Choose a more conservative shirt-and-tie combo for a traditional office, even if it's an event outside the office. If you arrive and feel a bit overdressed, ditch the jacket and tie for the evening to relax your look.
Liking the LBD
The all-purpose option for semiformal attire for women is the LBD, or little black dress. This simple dress, inspired by Audrey Hepburn in "Breakfast at Tiffany's," is typically cocktail length, and worn just below, at or just above the knee. Styles and fabrics vary, but this dress can be dressed up with jewelry, heels and a shawl, or dressed down with a simple cardigan, tights and pumps. While your LBD can go to a cocktail party or office event, keep in mind that some traditionalists still frown on black at weddings. If you do opt for an LBD for a semiformal wedding, add a light or bright shawl, wrap or cardigan to keep your look cheery.
Captivating Cocktail Dress
Cocktail dresses are typically relatively short party dresses, rather than long evening gowns. They are distinguished from daytime dresses by fabric and details. Adornments, style and cut, beading, and shimmery or sheer fabrics can all take a dress from everyday to semiformal. Choose colors and styles appropriate for the event and the season. Delicate pastels look good at summer evening weddings, while jewel tones will sparkle at the company holiday party.
References
Writer Bio
With a master's degree in art history from the University of Missouri-Columbia, Michelle Powell-Smith has been writing professionally for more than a decade. An avid knitter and mother of four, she has written extensively on a wide variety of subjects, including education, test preparation, parenting, crafts and fashion.
Photo Credits
Jupiterimages/Photos.com/Getty Images