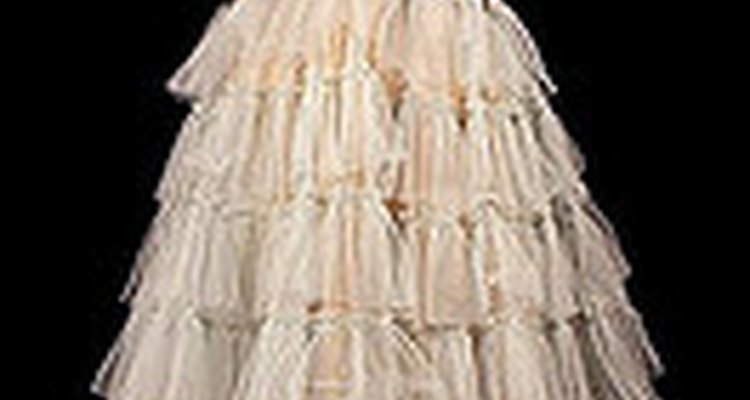 http://www.flickr.com/photos/sacheverelle/2666980016/
Making the right choices about formal wear can be challenging. You may have a professional event, a wedding, or a charity function to attend and need something more than a cocktail dress. Unfortunately, most of us do not have stylists on hand to choose gowns, shoes and jewelry. What should you wear, and how should you wear it? Understanding formal wear etiquette is crucial, but no one lays the rules out for you. Terminology may lend a clue, but you must follow your own sense of taste in order to be comfortable and beautiful in your formal attire.
Types
There are several types of formal attire for women. Long ball gowns, shorter formal dresses, evening suits and cocktail dresses may all be the right choice for some formal occasions. Full-length gowns can range from quite simple to very elaborate. Ball gowns typically have a very full skirt and a more conservative bodice, while evening gowns are more fitted through the body and may expose more skin. Cocktail dresses can range from tea length to short and may be more or less dressy depending upon fabric and style.
Considerations
Look to the event invitation to gauge the required formal wear etiquette. If the invitation states white tie or black tie, a formal gown is required, but a ball gown or evening gown is equally appropriate. If the invitation is black tie optional, you may choose formal separates, a gown, a formal suit or a cocktail dress. Keep your date's attire in mind for black tie optional events. If he is wearing a dark suit, you can also dress down, but if he is wearing a tux, choose a more formal dress. Cocktail attire implies either a dressy suit or a cocktail dress.
Choices
Making the right choices can help you fit in at a formal event. For many women, owning a very dressy tea length black cocktail dress is a good choice. A dress like this can be dressed up and squeak by at a black tie event or dressed down for a cocktail party. Choose a cut and fit that suits your body and opt for a relatively conservative look to make sure it is appropriate for any occasion. Satins or silks are ideal for year-round wear. Separates can also be an ideal choice to fit in with formal wear etiquette. Purchase a beautiful evening jacket and camisole, then one shorter fitted skirt and a full length full one to take you to any occasion.
Accessories
The right accessories can make a formal outfit shine. Use glittery jewelry, high heels and a dressy wrap to make a simple black dress work for a more formal occasion, or dress down a slightly too dressy dress with a soft colorful pashmina, simple jewelry and low, colorful heels. Your shoes and accessories should complement your dress, and a simple dress calls for more vivid accessories. If your dress is sequined or heavily beaded, choose solid and simple accessory pieces to avoid looking overdone at your formal event. A small satin or beaded clutch purse is appropriate for all formal events.
Hair and Makeup
A formal event is the ideal time to splurge on professional hair styling. Photos are likely and you want your hair to stay in place all evening. If you opt to do it yourself, choose a style that will hold well and be sure to use hairspray liberally. Evening makeup is appropriate with formal wear, but choose one feature to emphasize and make sure that your makeup and dress work together well. Carry a lipstick and compact to refresh your makeup if needed.
Resources
Writer Bio
With a master's degree in art history from the University of Missouri-Columbia, Michelle Powell-Smith has been writing professionally for more than a decade. An avid knitter and mother of four, she has written extensively on a wide variety of subjects, including education, test preparation, parenting, crafts and fashion.
Photo Credits
http://www.flickr.com/photos/sacheverelle/2666980016/