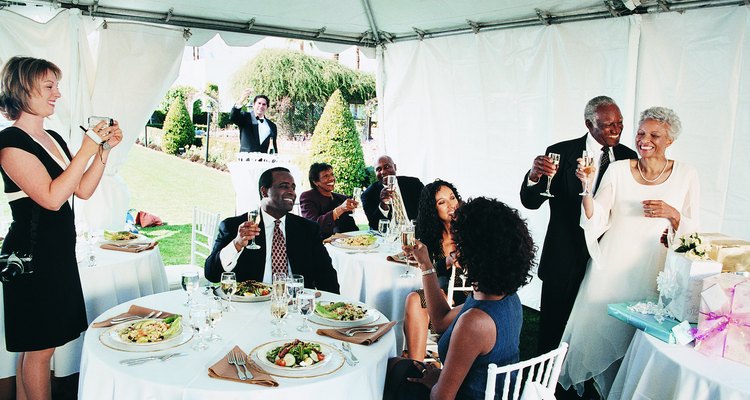 Digital Vision./Digital Vision/Getty Images
Wearing a black dress to a wedding used to be a huge fashion faux pas as black was thought to signify mourning or ill wishes for the wedding couple. As wedding fashions change, wearing your favorite little black dress to a wedding usually works for any wedding without a preset theme. Accessorize your black dress appropriately for the formality, season and time of the wedding.
Coat or Wrap
Wear a dressy coat, wrap, scarf or bolero over your black dress if the wedding takes place during colder months, outside or in a house of worship, particularly if your black dress is strapless, a halter style or has thin straps. Light, playful colors in thin materials, such as lace, are appropriate for summer, spring, morning or afternoon weddings as the black dress by itself can feel too dark or formal. A bright patterned scarf works for a morning, afternoon or evening wedding. Wear a faux fur-trimmed, velvet or silk bolero or wrap for a formal evening wedding.
Shoes
Open-toed sandals with a short heel or classic pumps work for an early or less formal wedding in light, bright colors. Metallic shoes or shoes with crystals and rhinestones are appropriate for cocktail-style weddings, late afternoon or evening events. Bright shoes can wake up a black dress. Cobalt blue, taxi cab yellow, fuchsia, turquoise or bright red are a few choices.
Jewelry
Chunky, colorful beads, long strands or a colorful broach are appropriate for earlier weddings, while crystal, rhinestones, colorful stones or pearls work for evening weddings. Dangling earrings and matching bracelets will complete your ensemble. Costume jewelry is more than acceptable, particularly for a cocktail hour wedding reception.
Accessories
Accessorize your black dress with a pair of nude pantyhose for an evening winter wedding to help keep your legs warm, especially if your dress is cocktail length rather than a floor length gown. A bright or colorful belt or sash is an option if the cut of your dress allows for one. Grab a small clutch or bag that complements your shoes to complete your look.
References
Writer Bio
Janece Bass is a freelance writer specializing in weddings, family, health, parenting, relationships, dating, decorating, travel, music and sports. She has been writing for more than 15 years and has numerous published pieces on various websites and blogs. Bass has also ghostwritten various fiction-based novels.
Photo Credits
Digital Vision./Digital Vision/Getty Images