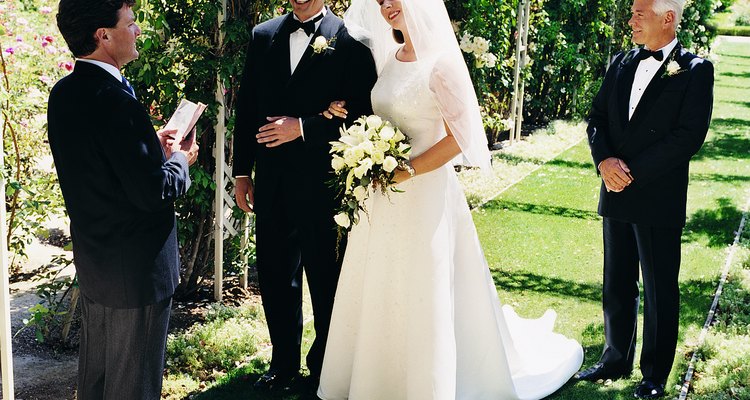 Digital Vision./Photodisc/Getty Images
Outdoor weddings come with beautiful scenery, but the less than traditional locale can leave you questioning how to dress for the occasion. Crafting a look that works with the setting and still feels a little dressy takes some creativity. Be prepared to deal with sand, dirt or grassy walkways, and the chance of high winds or rain. Guys have pretty straightforward guidelines, based on the location and time of day. For the ladies, however, it's all about finding the right pieces to work together for a comfortable and classy ensemble that can brave the elements.
For the Guys
Whether it's a beach, botanical garden or backyard wedding, men's guest attire is easy. For a daytime wedding outdoors, a short-sleeved polo or button-down shirt looks nice paired with slacks such as chinos. Make sure shirttails are tucked in and trousers are accessorized with a simple brown or black leather belt. The same look works for evening weddings outdoors -- just bring a light blazer or sport coat in case it gets chilly after dark. Dress shoes are not necessary, especially for beach weddings, and could actually get damaged. Try loafers or boat shoes you can easily remove to shake out the sand or dirt. Business casual is a good benchmark for men invited to outdoor weddings.
The Beach Wedding
When ladies are dressing for a beach wedding, there's a lot to consider. Many classic looks won't work in this outdoor environment. A nice sundress with a tea length hemline or longer looks polished when accessorized with distinctive jewelry like a statement necklace. Because it can often get windy at the beach, dressy pants are another option for female guests. An ankle length, slim cotton twill trouser or long, linen pant with a wide leg looks lovely with a soft silk or chiffon blouse. Forgo the stiletto heels for a flat sandal or comfortable wedge to keep you stable while you walk through sand.
The Garden Wedding
Attending a botanical garden wedding means there's a chance you could be trudging through dirt, mud and lots of grass. This is one outdoor setting that might still require cocktail wear, so be sure to check the invitation before choosing an outfit -- especially if its an evening ceremony. For a casual garden wedding, separates are a great way to balance comfort and style. Ladies can create a romantic look with a full circle skirt at knee or tea length, paired with an embellished blouse or lightweight T-shirt and sparkling jewelry. Don't bother with pumps -- your heels will sink right into the ground. Instead, try a sweet ballet flat or wedge heel with a flat base.
Chance of Rain
The big risk with an outdoor wedding is always the chance of unexpected weather conditions. Rain, heavy wind and fog can put a real damper on the couple's wedding day plans, so be prepared to take it in stride as a guest. Both male and female guests should bring jackets just in case. Choose slacks for guys or skirts for ladies with properly tailored hemlines that don't drag on the ground to avoid soggy ankles. Opt for shoes in more durable materials, such as wool boat shoes or woven jute wedge sandals that can withstand a little water. Plus, it never hurts to hide a compact umbrella in your handbag.
References
Writer Bio
Marie Sporich is a SoCal native, classical ballerina and devoted Yogi. She holds an A.A. in product development and B.S. in business management from the Fashion Institute of Design and Merchandising. She has spent nearly 10 years in retail, is a published writer and certified wedding planner.
Photo Credits
Digital Vision./Photodisc/Getty Images