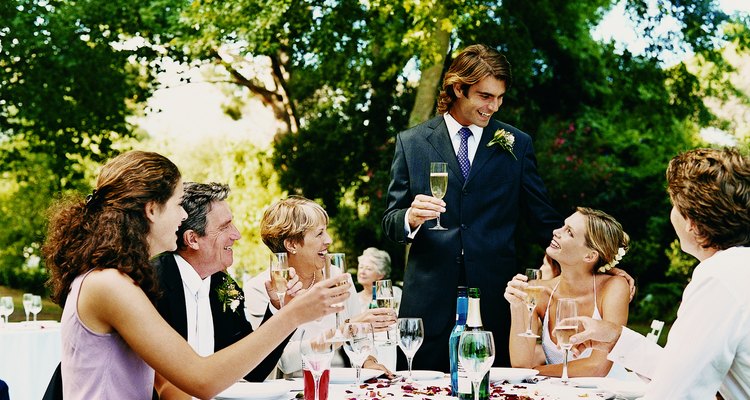 Digital Vision./Photodisc/Getty Images
Dress code etiquette for a wedding is usually stated on the invitation. Whether the wedding is outdoors or in, at a winery or a church, the dress code remains consistent with the invitation's stated code, according to etiquette guru Emily Post. However, circumstances such as season, location and whether it's the bride and groom or a guest who is wondering what to wear to an afternoon, an outdoor wedding at a winery can make a difference when selecting proper attire.
Invitation Dress Code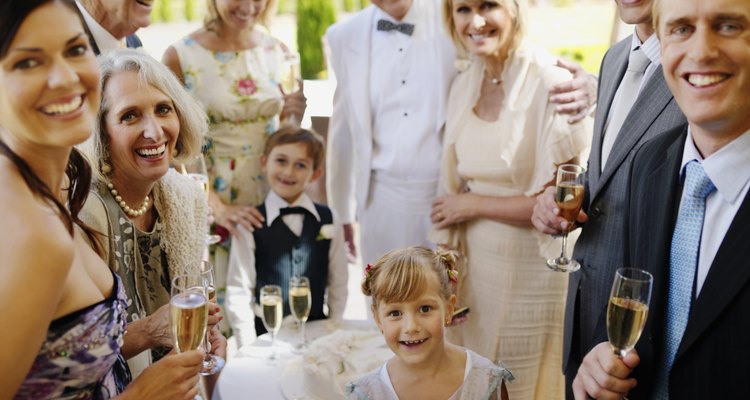 Marc Debnam/Digital Vision/Getty Images
If you've been invited to a wedding – whatever the location and time – your first guide to proper attire is the code stated on the invitation. Emily Post suggests black tuxedos for men and formal gowns or "dressy cocktail dresses" for women who have been invited to a Black Tie wedding. Invitations that read "Formal" might imply "black tie optional" or "creative black tie." In these cases, it is sometimes best to clarify the dress code with the bride or mother of the bride. "Semi-Formal" usually means a suit and tie for men and a cocktail dress or "dressy separates" for women. "Dressy Casual" denotes a sport coat and slacks, with or without a tie, for men and a dress or "dressy pants outfit" for women.
Season
monkeybusinessimages/iStock/Getty Images
A summer outdoor wedding might require a wedding guest to alter attire choices somewhat. A summertime wedding that is coded as "Formal" on the invitation usually requires that men wear a white dinner jacket in lieu of the black tuxedo jacket, according to Emily Post. For women attending a formal, afternoon summer wedding, choose a strappy cocktail dress and opt for comfortable sandals rather than stiletto heels. Semi-formal summer attire for men could include a seersucker or linen suit, and for women, a cool, loose silk skirt and dressy camisole top. Dressy casual attire could offer men the opportunity for a pair of khaki pants and polo shirt, while women could attend in loose, flowing pants or a sundress.
Bride's Attire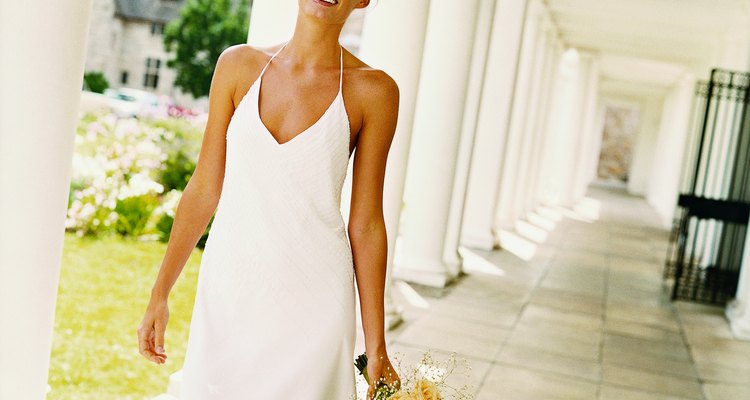 Digital Vision./Photodisc/Getty Images
Brides want their wedding dress to be special, regardless of wedding venue and season. An afternoon wedding at a winery, especially a summer wedding, might require a less formal approach to wedding gown selection. You should consider whether you will be in the open air or under a tent for your ceremony. A windy day, for example, could make a nuisance of that beautiful, trailing veil you've selected. If you do decide to opt for a simpler, more casual wedding dress, reflect that choice by marking your invitations with a matching dress code, so your guests can follow your lead. A simple gown, minus the train, could make your wedding day elegant and hassle-free. You don't want your gown hanging up or ripping on a stick or stone as you walk down the aisle. Also, consider low, comfortable shoes. Outdoor terrain can be tricky.
Groom's Attire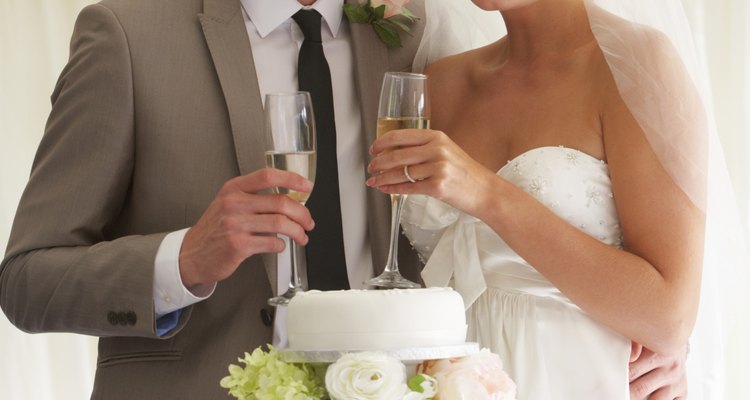 omgimages/iStock/Getty Images
Traditionally, grooms tend to have it easier when it comes to selecting their wedding day attire. Most grooms take their cue from the bride and her choice of wedding dress when it comes to how formal their own clothing choice is. To complement the bride who is opting for a simpler gown – no train, and a headpiece or hat instead of a veil -- veer away from wearing a tuxedo. You can, however, make your semi-formal or dressy casual attire special by adding personal flair. Seersucker, linen or a light-colored suit could fit these dress codes perfectly. Consider mixing and matching your suit jacket and trousers for a unique statement.