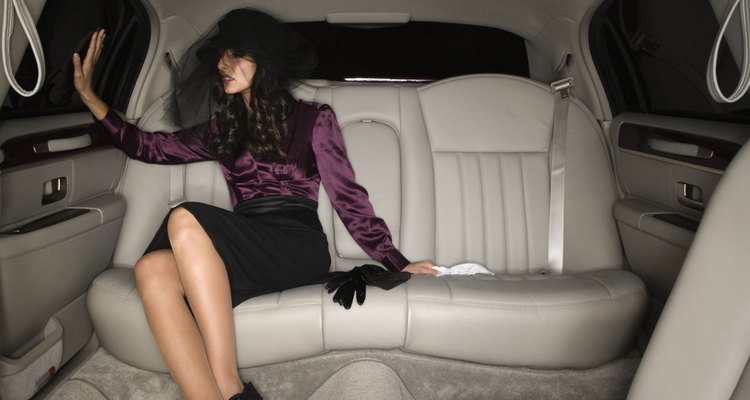 Hill Street Studios/Blend Images/Getty Images
Women's funeral attire is not limited to conservative black outfits. Today, etiquette for women's funeral attire is a bit more relaxed. Although, traditional black suits and dresses are appropriate for conservative church services, color and casual separates are acceptable for other services. When in doubt, ask someone close to the deceased's family or the funeral director for advice on what to wear. Clothing should be respectful, neat, clean and pressed, and accessories modest.
Funeral Etiquette
Traditional funeral attire for women includes high necklines and classic mid-calf hemlines for dresses and skirts. According to Funeral Home Directory, arms should be covered, unless the graveside service takes place during hot, humid weather. Traditionally, women were supposed to wear conservative black suits, dresses, skirts and blouses year-round to funerals. Today, it is also acceptable for women to wear less-conservative, light-colored, casual separates, particularly during the summer months. However, clothing should be respectful and not distract from the service.
Traditional and Non-Traditional Colors
Although black for a funeral, you may also wear dark colors such as brown, midnight blue, dark green or dark purple. Accompany a black or a dark suit, skirt or pants, with a white, ivory, gray or beige blouse or sweater during cool months. Choose subtle patterns, such as black on black brocade, rather than loud, multi-colored patterns. According to Emily Post, bright colors in place of traditional dark colors are acceptable, provided you are discerning. Consider the bereaved families expectations, time of year and location of event, and factor in your own views regarding death before choosing your color. However, if you are still unsure, dress conservatively in black, and choose only one other color to wear, such as a purple blouse with a black suit.
Choosing Your Outfit
Most funeral services take place in climate-controlled environments; however, it is not acceptable to wear tank tops or halter-tops that expose the shoulders. During the summer legs can be bare, providing your skirt or dress hemline falls to the knee; however, shorts and miniskirts are not appropriate funeral attire. Wear dark hose or tights with skirts that sit above the knee. Cover a short-sleeved summer dress or blouse with a bolero-style jacket or shawl. During the fall and winter, wear matching black trousers and blazers or casual separates, such as dress pants or a skirt and blouse.
Modest Accessories
Formal, closed-toed pumps work for all seasons. Wear comfortable shoes with low or flat heels if you're going to be standing for a long time at a graveside service. During winter, dark dress boots with flat heels are also appropriate. Your purse should be small, dark and conservative; large bags should be stored in your trunk during the service. It's not appropriate to wear flashy or large pieces of jewelry. Instead, accessorize with modest pieces such as pearls, gold or silver. Hair styles should be reserved, clean and classic, and hair may be worn straight, loosely curled, or in a sleek ponytail or bun.
Writer Bio
Katherine Macropoulos has authored two books; a fictional, young reader and a spiritual autobiography. Her areas of expertise include food, beauty and style, travel, culture and society, business and spirituality. Macropoulos holds a Bachelor of Arts in English, a diploma in photography, graphic design and marketing and certification in esthetics.
Photo Credits
Hill Street Studios/Blend Images/Getty Images