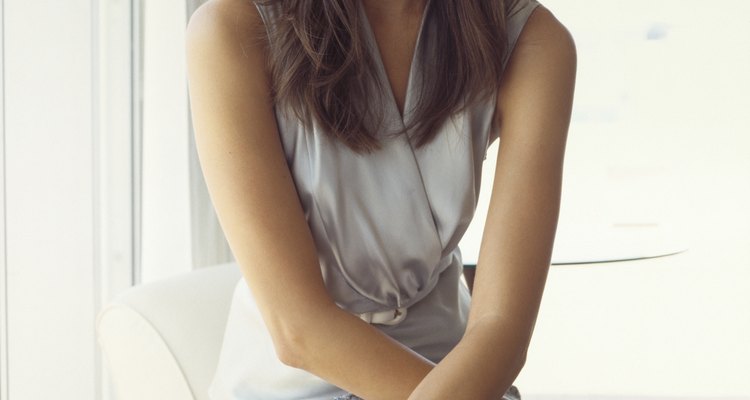 Digital Vision./Photodisc/Getty Images
When you hold an executive role at work -- whether it is a senior executive position or a mid-level one -- dress in a way that commands authority without making you seem unapproachable. Make an effort to look respectable and pulled-together, but remain mindful of your office's culture and dress in accordance with it.
Clothes That Fit
Perhaps the most important thing to consider when dressing for the office is the fit of your clothing. A too-big garment looks sloppy, while too-tight pieces are inappropriate for the workplace. In general, clothes should skim your body without clinging. Skirts should come to at least mid thigh, and pants worn with flats should break right along the top of your foot, while pants worn with heels should be approximately a half-inch off the floor. Work with a tailor to determine the perfect fit for each piece in your work wardrobe that requires alterations.
Fun With Accessories
In most offices, female executives should stick to classic footwear styles -- nude or black pumps, leather loafers or ballet flats are all acceptable options. The same is generally true for handbags. Traditional, structured purses project responsibility and a degree of necessary seriousness. Jewelry, however, is an area where women in many types of office can have a little fun. A statement necklace in a bold color palate adds a jolt of color into an otherwise-plain work outfit. If you work in a formal office where you don't feel that a bright statement necklace is appropriate, choose an oversized pair of stud earrings with an interesting pattern or shape instead.
Classic Beauty
Whenever you put together an outfit, hair and makeup play a big role in the total look. Women in executive roles at nearly any type of office should keep hair and makeup simple and timeless. Wild makeup or crazy hairstyles detract and distract from your otherwise professional and qualified appearance. Choose neutral makeup hues that flatter and highlight your best features. Go for a natural look and reserve trendy makeup shades for the weekends. If you wear your hair down regularly, visit your hairdresser as often as needed to keep it styled properly. On days when you'd prefer to wear it up, a classic ballet bun or a French braid are good options.
Dressing for Your Office
Be conscious of your office dress code when dressing for work. Make an effort to look professional and put-together at all times, but if you work in a laid back office of an Internet startup, for example, don't show up for work in a suit every day. Doing so might lead co-workers to perceive you as being unapproachable -- which is never good for business. Instead of a suit, wear a high-quality pair of dark blue boot cut jeans paired with classic high-heel pumps, a tailored navy blazer, and an ivory silk blouse. You maintain an air of authority without seeming intimidating.
References
Writer Bio
Katherine Mitt has been contributing to online publications since 2009, focusing primarily on fashion and style topics. She holds a B.A. in English from a small liberal arts school.
Photo Credits
Digital Vision./Photodisc/Getty Images