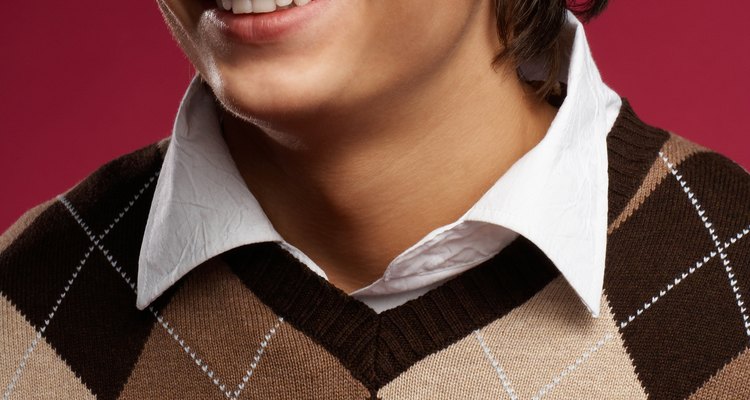 Jupiterimages/Photos.com/Getty Images
Argyle, with its diamond shapes and crisscrossed lines patterned over a plain background, is often used in men's clothing -- especially sweaters. Because argyle gives you an attention-grabbing pattern, it should be the primary focus of an outfit. Other wardrobe elements such as shirts and pants should remain simple in color and design and not compete with the pattern.
Crew Neck Sweaters
You can pair an argyle sweater with a rounded crew neck with a long-sleeved dress shirt. The button-down garment should be worn under the crew neck sweater with its collar tips tucked under the sweater's neckline. Keep your neckline relaxed and comfortable by wearing the dress shirt's collar button undone. Depending on the length of the shirt's sleeves, the cuffs of the dress shirt can extend slightly past the wrist area of the sweater. Dress shirts worn with argyle sweaters are typically white, although other complementary colors can be worn if they don't distract from the argyle pattern.
V-Neck Sweaters
Like the crew neck, you can wear a button-down business shirt with a V-neck argyle sweater, which is appropriate for dressier events. However, the collar should be worn over the sweater's neckline and can even accommodate neckwear. For more casual occasions, wear a crew neck T-shirt under the argyle V-neck. The close-fitting collar of a tee contrasts with the neckline of the sweater. If you choose a colored tee, it should match the colors in the argyle sweater. For more visual interest, try out a graphic tee -- but be sure the screen-printed design of the shirt does not overwhelm the argyle diamond pattern.
Sweater Vests
Sweater vests featuring an argyle pattern are typically worn over dress shirts. The dress shirt can be a solid color or even have thin pinstripes. Steer clear of dress shirts that feature bold patterns such as block stripes or paisley. If you require outerwear, match the sweater vest and button-down combination with a light wool or corduroy blazer to look conservative and sophisticated -- giving the argyle vest a scholarly look -- or a thin leather jacket for a more modern approach. The warm, classic pattern of argyle contrasts well with the sleekness of leather.
Completing an Argyle Sweater Outfit
In addition to the style of sweater you wear -- crew neck, V-neck or vest -- consider your choice of pants and accessories when incorporating argyle into your outfit. For a day at the office, combine an argyle sweater with trousers in a neutral color. Make the outfit slightly formal with a regular silk necktie, but keep only the knot exposed; the tie's shell should be tucked under the sweater. To achieve a formal look that's also fun -- perhaps at a semiformal event -- opt for dark dress pants and for a bow tie. The bow tie's colors should draw from the colors in the argyle pattern. When you wear a sweater in a casual environment, denim jeans work best to dress down the "preppy" look associated with argyle.
References
Writer Bio
Diane Bautista has more than seven years of professional experience writing for a variety of industries including fashion retail, communications technology and nonprofit. She currently works as an advertising copywriter and holds a B.A. in English from Washington State University.
Photo Credits
Jupiterimages/Photos.com/Getty Images