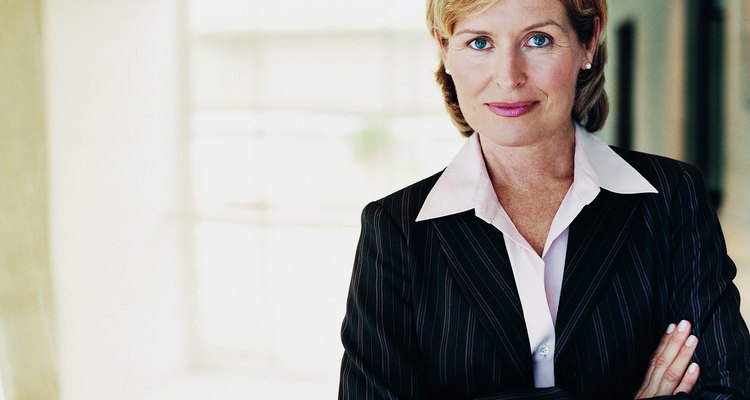 Digital Vision./Digital Vision/Getty Images
Many women assume that a suit jacket can cover a multitude of shirt styles -- anything from a tank top to a bulky sweater -- and render these styles professional. Getting the look right isn't quite that easy. Basic colors and blouse styles are the safest way to avoid a social misstep, regardless of the profession or event involved.
Basic Colors
White, ivory and French blue are conservative colors that look good with suit jackets of any color or pattern. These classic color choices are seen as "power" colors -- they give you a certain authority. They are wardrobe basics and cross over from casual to semi-professional to professional with ease. Secondary colors -- that is, colors that are also basic but are seen less often -- include light blue, light gray and light pink.
Basic Styles
The silhouette of a suit can be ruined by a blouse that's embellished with bulky pleating or ruffles. Plain blouses that are similar to a man's button-down shirt will give the look a clean, smooth line. Opt for sleeves with cuffs so the sleeves do not ride up when you put on your jacket, causing bunching that ruins the line of the jacket sleeve. For collared blouses, keep the collar inside the jacket lapels for a crisp, vertical look that frames the face.
Jacket On or Off
What type of blouse you wear under a suit jacket also depends on whether you plan to remove the jacket. In more conservative office settings, T-shirt-length sleeves are the shortest blouse sleeves that can be worn without being considered provocative. If you have a fabulous sleeveless blouse, you can still wear it with a suit jacket, but be mindful of the dress code before removing your jacket and possibly exposing too much.
Sweaters
If you opt to wear a sweater instead of a blouse under a suit jacket, choose a lightweight cashmere, wool or silk. Anything heavier will likely be too warm and bulky. The neckline can be a modest V-neck, rounded neckline, square neckline or turtleneck. Corporate culture and climate are the two factors you should consider before wearing a sweater instead of a blouse.
Blouse Fit and Tips
Always tuck your shirt in, especially if it has curved shirttails. Regardless of trends, this practice is considered the norm. If your blouse has a straight hem at the bottom and lands just a few inches below your waist, it's acceptable to wear the blouse untucked as long as it is shorter than your suit jacket. A well-fitted blouse should not strain at the buttons when you sit down. If it does, it's too small.
References
Writer Bio
Shelley Moench-Kelly is a writer and editor whose clients range from L'Oreal and www.Makeup.com to the McGraw-Hill Companies and FIDM. She has interviewed notables such as Dr. Andrew Ordon of "The Doctors" and the legendary Vidal Sassoon. Her first book, "Egg," is slated for release in 2016.
Photo Credits
Digital Vision./Digital Vision/Getty Images