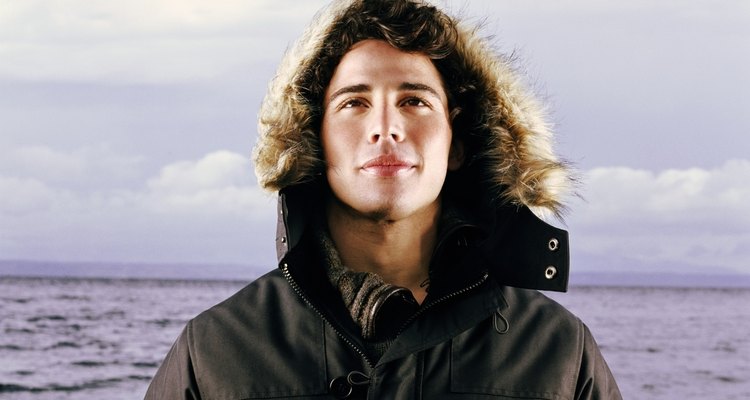 Ryan McVay/Lifesize/Getty Images
Drawn from military history, the parka and the bomber jackets are two outerwear items that, although different in style, have been reinterpreted over the years to balance functionality and fashion in one package. These jackets are versatile and are often worn during the late fall, winter and early spring months.
The Parka
A parka is a bulkier jacket that offers supreme insulation and features a longer cut than other outerwear. Like bomber jackets, parkas were invented out of practicality -- to brave the outdoor elements. The parka jacket has roots among the Intuits and Eskimos, but its design was translated for military purposes around the 1950s. A traditional military parka of that time featured an army olive-green colored exterior (made of nylon), a fur-lined hood and a "fishtail" design -- a parka with a longer cut in the back.
Types of Parkas
Activity-based ski and snow parkas are able to withstand snow, ice, wind and cold climates. Ski and snow parkas feature synthetic and/or down insulation and sturdy fabric that's often water-resistant. They have sewn-on or detachable hoods that offer maximum face and head coverage. Depending on the style, hoods can be cinched with ties or zippered over the neck, mouth and even up to the nose.
When you're not hitting the slopes, many parka jackets are designed for everyday wear. These types of parkas resemble the typical parka design -- a long fishtail cut and hood -- but do not feature the same kind of thick insulation as a ski parka. These type of parkas can be worn during cooler months and come in a variety of colors, fabric choices and styles.
The Bomber Jacket
The classic bomber jacket is characterized as a short-cut jacket with a leather exterior, and elastic bands at the waist and cuffs, although the latter is not always included in contemporary styles. The jacket has a zippered front and with two or more pockets that are fastened with additional zippers or snap buttons. Bomber jackets, also known as a flight or pilot's jackets, may also feature soft wool (or a similar fabric) lining the coat or just the collar.
Wearing the Bomber
Bomber jackets originated around the World War I era and were practical garments -- rugged and sturdy -- for the cockpit. This type of outerwear eventually became popular among the civilian population and remains a stylish jacket choice for men.
Men with narrow shoulders look best in bomber jackets because the cinched waistband broadens the upper torso area. Additionally, bomber jackets with plush padding will bulk up an otherwise small body frame.
Pair a bomber jacket with military boots, well-worn jeans and aviator sunglasses for a nostalgic, but fashionable look. Sport a lightweight zip-up hoody under the coat and skinny jeans for a more modern look.
References
Writer Bio
Diane Bautista has more than seven years of professional experience writing for a variety of industries including fashion retail, communications technology and nonprofit. She currently works as an advertising copywriter and holds a B.A. in English from Washington State University.
Photo Credits
Ryan McVay/Lifesize/Getty Images