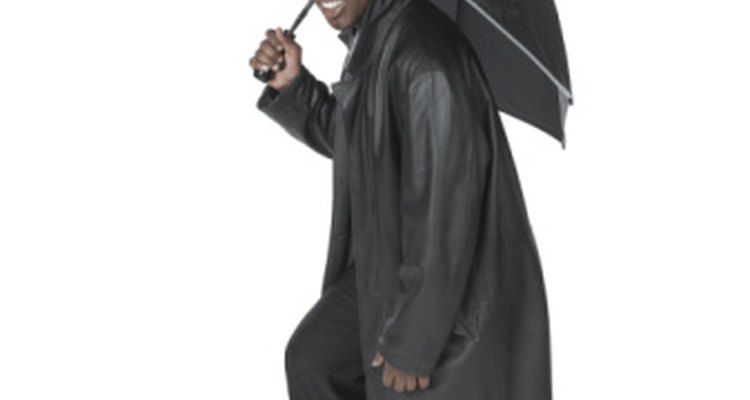 Photos.com/PhotoObjects.net/Getty Images
Raincoats and rain jackets are usually made from waterproof or water-resistant fabrics. Even if the fundamental material is not waterproof, like cotton, it will be often be treated with a water-resistant coating. One such example is the famous Mackintosh raincoat, first introduced in the early 1800s, made from rubberized cotton. Shiny nylon is a popular water-repellent fabric, which inspired the nickname "slicker." Traditional coat fabrics, such as cotton and wool are frequently seen in high-fashion rainwear, while fabrics such as silk and leather appear less often in these garments. Vinyl and plastic are commonly used for children's raincoats.
Cotton
The famous Mackintosh raincoat is made from rubberized cotton, i.e., cotton fabric that has been bonded with vulcanized (chemically treated) rubber. Heavy, work-related rainwear tends to be constructed out of cotton duck or oil cloth. Tailored Burberry and London Fog brand raincoats are available in rubberized cotton, bonded cotton and raglan. Many other high-fashion raincoats are made from a smooth twill fabric called gabardine.
Wool
Wool is not inherently waterproof, but it is a durable fabric found in some raincoats — particularly military, vintage and high-fashion garments. Wool raincoats are fairly common in Europe and in colder regions of the United States. Some raincoats made from other materials have a wool lining for extra warmth. Burberry, Crombie and Brooks Brothers are makers of heavy wool raincoats.
Gore-Tex
Gore-Tex fabrics were introduced in the 1970s and have since become very popular for outer garments and rainwear. The material is created by laminating a specially formulated membrane (similar to Teflon) to high-performance textiles, rendering them waterproof. In addition to being water-repellent, windproof and durable, Gore-Tex fabric is also extremely lightweight and breathable. Gore-Tex fabric is typically used to make active rainwear and weatherproof garments for camping, hiking and outdoor sports.
Nylon
Nylon is an inexpensive and long-lasting synthetic material that is well-suited to rainwear. It is both lightweight and weatherproof. Nylon and similar fabrics are frequently used in the production of rain ponchos and umbrellas, as well as raincoats and jackets. Since nylon rainwear is easily foldable and packable, it is ideal for traveling. Land's End, Patagonia, and L.L.Bean are some manufacturers of stylish and practical nylon rain apparel.
Vinyl
Vinyl and other plastics are typically used in children's rainwear and accessories, for example, raincoats, jackets, hats, boots and umbrellas. These materials are inexpensive, easy to clean and completely water-repellent. Vinyl can be dyed and produced in bright colors that are especially appealing to children. It is also a good material for printing bold designs, themes, cartoon characters and other fun details that kids enjoy. Vinyl, plastic and PVC raincoats are also popular with adults.
References
Writer Bio
Shannon Leigh O'Neil, a New York City-based arts and culture writer, has been writing professionally since 2008. Her articles have appeared in "GO Magazine," "The New York Blade" and "HX Magazine," as well as online media. O'Neil holds a Master of Arts in modern art history from the City College of New York, where she also studied French and minored in classical languages.
Photo Credits
Photos.com/PhotoObjects.net/Getty Images