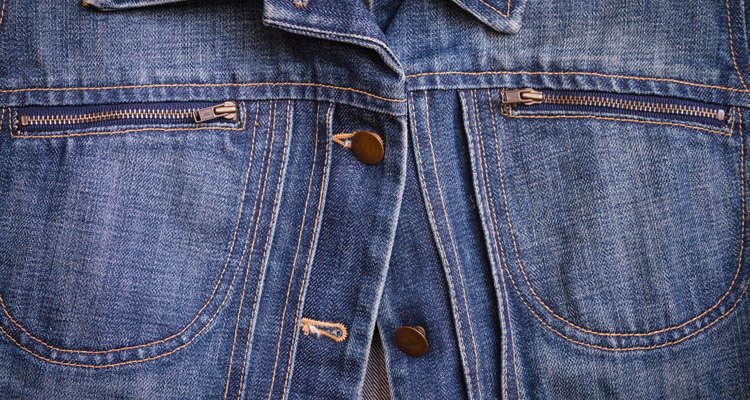 Rochelle Staples/iStock/Getty Images
Denim blue jeans trace their history back to 1860s Italy -- if not earlier -- where they were part of the uniform of Giuseppe Garibaldi's army. The rugged bottoms haven't gone out of fashion since, and over time have worked their way up to the top half of the body, sported by figures as iconic as Marilyn Monroe and the Marlboro Man. Steeped in Americana, today's denim jacket exudes a sense of sturdy individualism, but it took many decades to establish itself as a pillar of fashion.
The Early Days
Perhaps unsurprisingly, the denim jacket first appeared as a utilitarian work coat. Around 1905, American jeans manufacturer Levi Strauss and Co. introduced the "Levi Blouse," an outerwear shirt intended as a companion to work pantaloons. The original model -- known as the 506 -- featured heavy 9-ounce denim. By 1938, the blouse was officially redubbed a "jacket." Strauss produced six versions of the jacket through 1947, making minor additions and variations.
American Rise
The late 1940s and '50s saw the denim jacket transition from workwear into day-to-day attire as Strauss introduced lightweight coats in its westernwear line. Although Levi's premiered a women's jean jacket in the late '40s, a denim-wearing Marilyn Monroe made the piece fashionable for mainstream women -- cementing the jacket as a unisex staple -- during a 1950s photo shoot. For men, icons such as James Dean helped to associate the denim jacket with a sense of individualism. By 1962, Levi's settled on the double-breast pocket featured on most modern jean jackets. Later, hippie culture experimented with everything from shearling lining to sleeveless denim jackets.
1970s to 1990s
Biker and trucker culture captured in cinema carried the denim jacket through the late '60s and '70s, with figures such as Robert Redford and Dennis Hopper rocking the look in films like "Little Fauss and Big Halsy" and "Easy Rider." Musicians such as Debbie Harry and Madonna helped maintain the style's popularity through the 1980s and early '90s. Edgy '80s aesthetics included trim fits and punk-inspired spikes or patches; in the '90s, light-hued stone wash styles, oversized cuts and the addition of bold embroidery or sequins ruled the denim scene.
Later Life
From the late 1990s into the first decade of the aughts, factory-distressed denim lent wearers a carefree vibe. While previously derided, denim on denim -- with contrasting top and bottom washes -- came back into the spotlight in the '10s. In addition to renewed interest in selvedge and raw denim textiles, fashionistas in the '10s continued to experiment with style pairings from a light-washed cropped jacket with a maxi-skirt to a dark-washed denim coat with a tweed vest and tie.
References
Writer Bio
With a diverse professional background and a decade of experience as a freelance writer, Dan has contributed lifestyle content -- from fashion to travel to fitness and more -- to publishers including Chron, Fortune, Sony, GlobalPost, ModernMom, Moviefone, Salon.com, Techwalla and dozens of others.
Photo Credits
Rochelle Staples/iStock/Getty Images