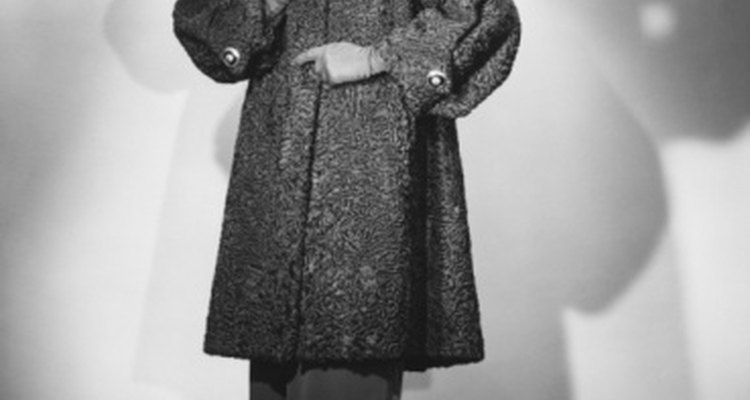 George Marks/Retrofile/Getty Images
Men's and women's trendier clothing styles of the late 1950s replaced the more conservative dress of the early '50s. In 1958, notable French designers created styles that would influence the fashion world for decades to come. Some men lamented women's new fashion styles; Adlai Stevenson suggested their source was Moscow (this was the Cold War era) rather than Paris.
Men's Suits
The traditional business suit prior to 1958 was typically black, dark blue or gray flannel, and the Italian silk suit was a more expensive option for stylish men who could afford it. Suit jacket lapels became longer and narrower in the late '50s, and trousers were tapered and cuffed. The top fold of a man's white handkerchief, visible above the breast pocket, was styled in two diagonal points in the late '50s rather than the horizontal fold of the early '50s. Wash-and-wear fabrics were now available. Men traditionally wore button-down shirts in plain white or pastel, although pinstripes and small checks were also acceptable. In London, the trapeze design seen in women's dresses and coats influenced men's suit jackets to a lesser degree – the bottom of the jacket flared slightly.
Women's Dresses
The Parisian designer Hubert de Givenchy, who famously worked with Audrey Hepburn to create her fashionable look in films like "Sabrina," designed a dress called the "sack" for his 1957 collection. The sack evoked the waistless dresses of the 1920s. By 1958, the style of this dress — a straight shift, also called a chemise — had become popular. Yves St. Laurent designed dresses in the trapeze style in 1958. These tent-styled garments were full at the hem, and coats in this style often featured a large collar and large buttons down the front.
Shoes
Women's dressier ensembles for evening often called for wearing pumps with pointed toes and slender, stiletto heels. For street wear, women wore lower- or stacked-heeled styles, and shoes were available in a variety of bright colors and materials, including fabrics. For daywear, men wore slender-toed oxfords and loafers.
Hats and Other Accessories
In 1958, the fedora – a hat that featured a narrow brim and low crown – was a popular, all-purpose style choice for men to wear to the office. Unusually shaped hats were being designed for women, such as the high-crowned bowler, and the close-fitting cloche was popular in a variety of fabrics. In addition, women wore gloves that typically matched their shoes as a finishing touch. Another popular accessory for both men and women in 1958 was the waterproof and shockproof wristwatch.
References
Writer Bio
Yvonne Morris began her professional writing career in 2002 when she coauthored the book "Workplace Enrichment." Her poetry has appeared online and in print journals such as "Kalliope," SubtleTea and The Pedestal. She holds a Master of Arts in mass communication from the University of Kentucky.
Photo Credits
George Marks/Retrofile/Getty Images