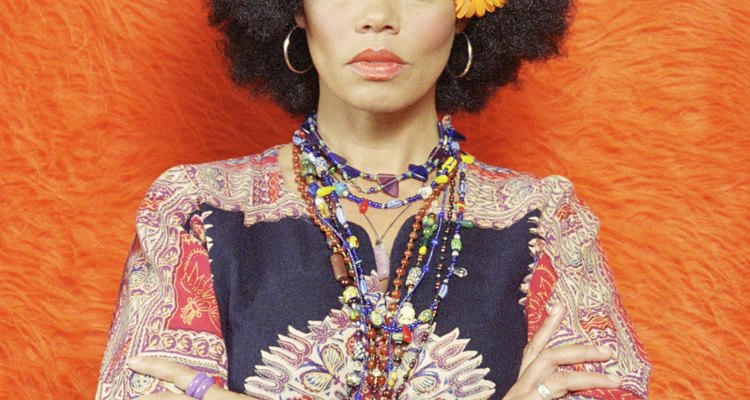 Brand X Pictures/Stockbyte/Getty Images
Foxy ladies and groovy men of the '70s knew how to make a statement with their fashion. If you walk passed a thrift shop or a costume store nowadays, '70s clothing is instantly recognizable. Influenced by models, actors and musicians of the time, trends flooded the scene as soon as they were spotted. Specific shapes, particular patterns and detailed prints were what made these garments memorable.
Bottom Boogie
Actress Peggy Lipton was a poster girl for bell-bottoms. Similar in style but a tad more conservative, Anita Pallenberg was often seen in the iconic flare pants. Seventies closets were full of multibuttoned chemin de fer pants, overalls, windowpane denim, wraparound pants and colored Ditto jeans. On the looser side were gaucho pants and baggy trousers. Corduroy pants made their breakthrough performance in colors of green, brown, tan and burgundy. For a dressier and sexier bottom, females wore plush velvet hotpants, while males wore their track shorts just as short.
Tubular Tops
Satin and cheesecloth were favored shirt fabrics in the '70s. Jane Fonda popularized the pussybow blouse with a high neckline opposite Pam Grier who was notable for seductive tube tops and halter tops, but Olivia Newton John outdid them all, wearing nothing underneath a blush-colored vest. Tank tops were worn over pointed- collared shirts throughout the era and button-downs in psychedelic prints and Celia Birtwell prints, designed by Charlotte Rampling. Tie-dyed tops were huge and commonly worn under fringe outlined vests, jackets or singer Stevie Nicks' favorite -- shawls. Angle-sleeve blouses were also big, along with trench coats, leather jackets and dean's sweaters, but a seventies sweater collection wouldn't be complete without the famed Starsky cardigan.
Dynamite Dresses
The '70s saw a flow of feminine dresses. Musician Joni Mitchell regularly performed in floaty maxis, spreading the trend from young girls to older woman. Preteens were commonly seen in floral granny gowns. The short sizzler dress with matching panties was popular alongside long-line skirts, which hid the legs rather then exposed them. A piece that was invented in the '70s and is still around today is Diane Von Furstenberg's wrap dress.
Funky Footwear and Awesome Accessories
Iconic '70s looks were completed with distinctive footwear. Platforms were staple items along with oxford shoes and suede boots. Clogs, dingo boots and earth shoes were also popular. Chunky Frye boots and Yo-Yo shoes with a hole through the heel made constant appearances as well. Peeking out of these shoes were the infamous glitter socks. Rainbow toe socks were found in many stores and double-stripe tube socks were a must-have sports style. Outfits were accessorized with a Bianca Jagger turban, a Faye Dunaway wide-primed felt hat or a Diane Keaton necktie and fedora. Ladies would carry either a blue jean, bamboo or leather purse with multicolored beaded fringe, and a '70s jewelry collection always included love beads and puka shells.
References
Writer Bio
Los Angeles-based writer Elana Kluner has been writing internationally since 2008. Her work has been published in M2Women Magazine, DANZ Quarterly, Central leader, Western Leader, The Other Duck and Spa Violet. Kluner graduated with a Bachelor's degree in creative writing from Auckland University of Technology and studied fashion design at the Fashion Institute of Design and Merchandising.
Photo Credits
Brand X Pictures/Stockbyte/Getty Images