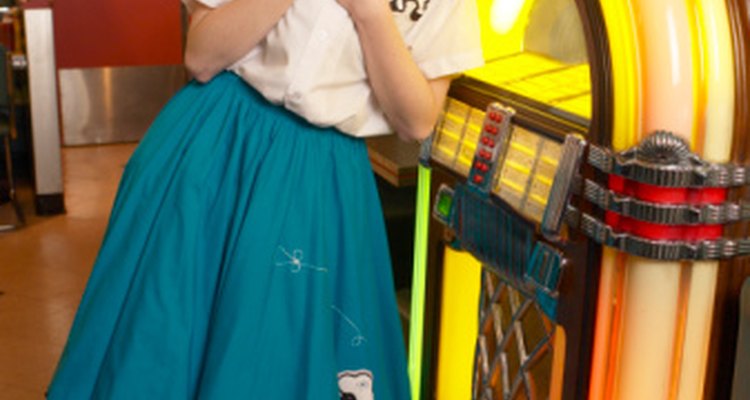 Hemera Technologies/AbleStock.com/Getty Images
Girls' school clothes were conservative in the '50s, and many schools had specific dress codes. School clothes and party clothes were completely different from each other. Girls carefully chose outfits each day, coordinating colors and style, making certain all items were in good repair, clean and wrinkle free. Unlike today, where anything goes, back then, dress codes dictated lengths of skirts, pants, and colors and fabrics.
Dresses and Jumpers
Dresses were often worn to school during the '50s. Most dresses were shirtwaist style with cinched-in waists and added coordinated belts. The lengths went from below the knee to mid-calf. Blends of synthetic fabrics had made their debut, and became more popular as the decade progressed. Colors went from subtle neutrals to bright colors and prints. Jumpers, available in different colors and textures were a popular item for school girls. The versatility of adding different blouses and sweaters increased wardrobes by creating many different outfits.
Skirts
Girls wore pencil-slim skirts with slits up the back for ease in walking. The length of skirt went from mid-knee to mid-calf. Pleated skirts made their debut -- in polyester -- which helped keep pleats razor sharp. Circular skirts with or without appliques, were an instrumental part of the school wardrobe. Skirts with bright patterns were also worn to school with tucked in sweaters and blouses of coordinating colors.
Blouses and Sweaters.
Sweater sets were frequently worn in the '50s, in wool, lambswool and cashmere. All sweaters were worn over the skirt. Having many cashmere sweaters was a status symbol for young teenage girls. Blouses with peter-pan collars in long, three-quarter and short sleeve were acceptable choices. Man-tailored style blouses for girls were introduced during the middle '50s, and quickly caught on. Girls wore scoop neck blouses, though modestly cut. Blouses with large sailor collars in red, white and blue were acceptable as part of the school wardrobe.
Accessories and Shoes
Teenage girls wore mostly saddle shoes and white bucks to school. Outfit color-coordinated socks were a must with these shoes. Younger girls wore Mary Jane patent leather, strapped shoes with socks. Penny loafers were another alternative shoe for school. Small chiffon scarves with side knots were a fashion statement, and girls gave great care to matching these scarves with their outfits. A single strand of pearls was another important accessory, especially with sweaters. Girls often wore headbands with short hair styles as well as ponytails.
References
Writer Bio
Carol Stanley has been a writer and speaker for over 30 years. She has written for several Arizona publications including the "Arizona Republic." She attended the University of California-Los Angeles and the University of Arizona. She authored the book "For Kids 59.99 & Over," among other publications.
Photo Credits
Hemera Technologies/AbleStock.com/Getty Images