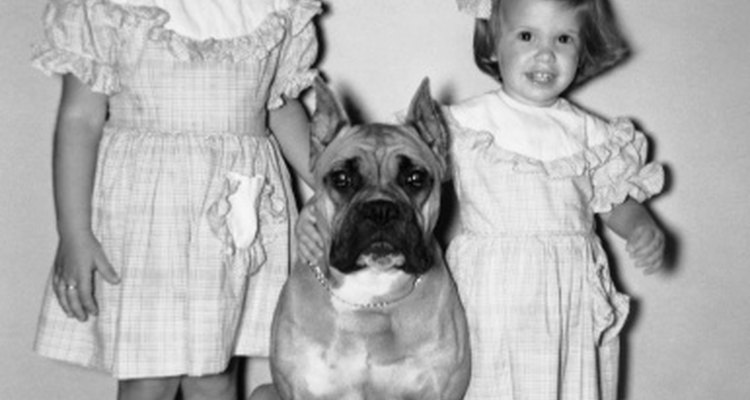 Jules Frazier/Valueline/Getty Images
The 1950s was an era when children safely roamed their neighborhoods, where, especially in smaller towns and rural areas, people looked out for one another. There was a sense of peace and prosperity. Women's rights groups had not yet risen up and clothing reflected styles that looked back more than they looked forward. Yet there were signs, even in children's clothing, that things were changing.
Dresses
In the 1950s, dresses were still the mode of dress for women and girls alike. Many schools did not allow girls to wear pants. However, in areas of the country where the weather was severely cold during the winter, some schools allowed girls to wear pants under their dresses to and from school and during outside recess.
Slacks
Though policies were changing, in smaller schools, boys did not wear jeans to school. While girls attended school in nice dresses, boys came in nice shirts, shoes with socks and slacks. They might also wear sweaters or sweater vests over a shirt. Most schools no longer required boys to wear ties to normal school functions.
Winter Wear
In the winter when there was cold, snow and ice, boys and girls bundled up in stocking hats, snow boots, bulky coats and warm, knitted mittens. Many were also required to wear a long knitted scarf around their necks.
Petticoats
The 1950s were an era of petticoats, petticoats and more petticoats. Girls pored over catalogs or checked out the local clothing store for the stiffest, most voluminous petticoats they could afford. The petticoats made skirts and dresses flare out in a circle around the wearer. The more the flare, the bigger and better the petticoat beneath. All those petticoats made getting in and out of vehicles rather difficult without flashing what was under the petticoats. Keeping the petticoats stiff and clean was a problem for mothers who took time and effort to do just that for their girls.
Dress Up
For church and other dressy affairs such as weddings and funerals, boys wore suits that echoed those worn by their fathers, if the family could afford it. Ties and dress shoes completed the ensemble. Girls wore frilly dresses with lots of lace and buttons. Dresses for young girls often had a large band fitted around the waist that tied in a large bow in the back. They wore slip-on shoes not meant for anything but dress-up affairs. Petticoats made the skirts flare out. Clothes were often stiff, scratchy and uncomfortable and left little opportunity to "play" while dressed up.
Pedal Pushers
Girls broke out of the dress-and-skirt mode with pedal pushers. Long dresses and skirts tangled in bicycle spokes and caught on bike pedals. Pedal pushers answered the need for safe clothing girls could wear while riding bikes. Pedal pushers were pants that ended between the knee and the ankle—short enough not to cause a hazard while riding. These became so popular that girls wore them for regular play activity.
Poodle Skirts and Leather Jackets
Girls wore pedal pushers, sweaters and scarves. Many also wore saddle shoes and poodle skirts. Girls pulled their hair back into a long ponytail adorned with fancy clips. As the 1950s progressed, some teen boys began greasing back their hair and wearing leather jackets.
References
Writer Bio
Carolyn Scheidies has been writing professionally since 1994. She writes a column for the "Kearney Hub" and her latest book is "From the Ashes." She holds a Bachelor of Science in journalism from the University of Nebraska at Kearney, where she has also lectured in the media department.
Photo Credits
Jules Frazier/Valueline/Getty Images