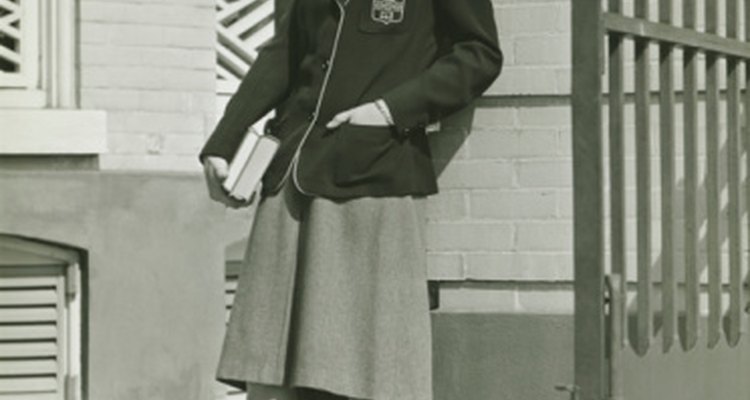 George Marks/Retrofile/Getty Images
During the 1940s, many schools across the world imposed strict guidelines for standard school attire, a precursor to our modern public school uniform policy. In the '40s, however, most U.S. public schools had no uniform policy as did schools in England, Europe and South America. In the U.S., parochial and private schools were typically the only schools to mandate strict uniform policies.
British Uniforms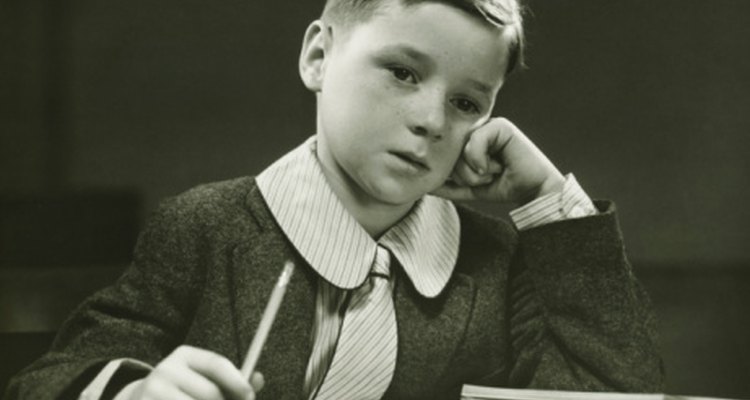 George Marks/Retrofile/Getty Images
British schools typically used uniforms in both public and private schools in the 1940s. The uniform codes were strict, and colors were usually somber. Girls wore straight skirts just below the knee, a white blouse, a necktie in school colors and a suit jacket that matched the skirt. They wore sensible, low-heeled shoes or Mary Janes. Young boys wore short pants just above the knee, and teens wore long slacks. Boys also wore white shirts and school-colored ties; sometimes they wore a sweater over their white shirt instead of a blazer. Little boys wore knee-socks and sturdy shoes.
American Uniforms
Uniforms for public school were not required in the United States in the '40s; however, some private schools imposed a strict uniform policy. Catholic schools and other private schools usually required a specific uniform. Catholic schoolgirls wore plaid skirts or jumpers with white blouses and Mary Jane shoes. Boys wore slacks, a white shirt and a school-colored tie. Some boys were also required to wear jackets or sweaters; other private schools imposed similar dress codes with solid colors instead of plaids.
Latin American Uniforms
Latin America was heavily influenced by the British and other European countries, such as Spain and often reflected the style of the day in Europe. In the 1940s in Barbados and Anguilla, children wore long or short pants for uniform bottoms and white shirts. In Cuba, the children wore red pants with bright red suspenders and white shirts. The Dominican Republic favored sailor-style uniforms for boys and girls. Some Latin American countries required children to wear jackets or smocks over their regular clothing.
Canadian Uniforms
Canadian children wore uniforms similar to British uniforms. Boys wore short pants until they were teens, when they exchanged them for long pants. In addition, boys were required to wear Wellington boots and suspenders with newsboy hats. White shirts with sweaters over them were a staple for Canadian boys' uniforms, while girls wore knee-length dresses or skirts with white blouses. Depending on the school, the girls could also wear a jacket or sweater over their blouses. Black, low-heeled shoes with rubber soles were a typical choice for schoolgirls.
References
Writer Bio
Brenda Priddy has more than 10 years of crafting and design experience, as well as more than six years of professional writing experience. Her work appears in online publications such as Donna Rae at Home, Five Minutes for Going Green and Daily Mayo. Priddy also writes for Archstone Business Solutions and holds an Associate of Arts in English from McLennan Community College.
Photo Credits
George Marks/Retrofile/Getty Images