Children in Japan dress very similar to children in the United States. While there are occasions where traditional Japanese dress is worn, children often wear casual clothes in their everyday lives. Many children wear uniforms to school and these are also very similar to something you would find in the U.S.
Traditional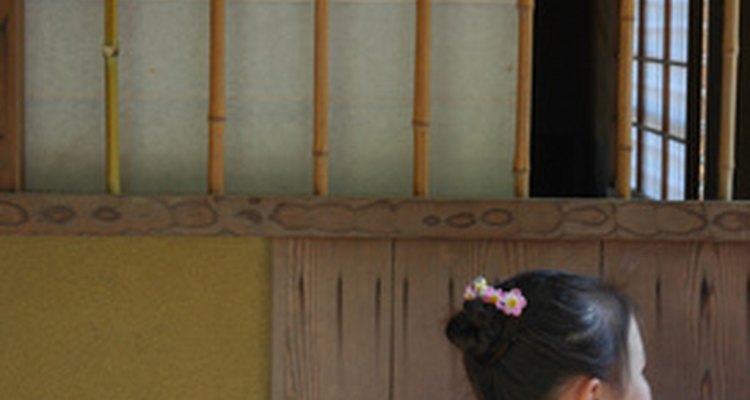 girl in kimono at tea house image by TMLP from
Fotolia.com
The traditional dress of Japan is a kimono. The kimono comes in many styles, but are similar to robes and many have long, bell-shaped sleeves. Children's kimonos have extra folds around the shoulders and waist so they can be let out as they grow, according to Hiroshima's City Guide. Today the kimono is usually only worn by adults and children on special occasions like weddings and celebration ceremonies. During the summer when there are festivals where traditional dress is worn, children and youth wear a yukata, which is an informal kimono made from lightweight material, according to Kids Web Japan. Children may also wear yukatas at home, depending on the traditions of their families.
Style
The current Japanese clothing is a mixture of styles and fashion from the East and the West. Children's clothing stores sell items similar to those found around the world—jeans, T-shirts, jumpers and dresses. The clothing comes in a variety of fabrics, but the majority of children's clothing is made from cotton.
School
Many children who attend public schools, especially at the middle school and high school levels, wear uniforms, as do most private school students. Uniforms are skirts and sailor tops or blouses with matching vests for girls, and boys wear cotton pants and white shirts with a blazer. PBS' Online NewsHour Extra website states that, much like children in other parts of the world, children in Japan try to personalize their uniforms by wearing colored socks, trying different hairstyles, and wearing jewelry. Uniforms are different for winter and summer. Many schools in Japan follow a seasonal calendar. The changing of the seasons is called Koromo-gae. On the first of June and the first of October, uniforms are switched out to coincide with the change in weather, according to Bite-Japan, a website meant to foster understanding of Japanese culture.
Accessories
One of the most recognizable children's accessories in Japan is the backpack. Backpacks are practical, as children use them to carry their books and supplies back and forth to school, but they are also a bit of a fashion statement. Randoseru are packs made from durable materials like leather or heavy fabrics and were once used only by the elite, or those with money. Today, these backpacks are used by school children all over Japan, according to The East Asian Studies Center at Indiana State University.
Variety
Japanese children's clothing often features bright colors and busy patterns. Children's clothing tends to be bright and often features cartoon animals like pandas and frogs. Many of the children's clothing manufacturers include more American-style characters on their clothing like Sesame Street characters and comic book superheroes. There are a wide variety of children's clothes and clothing companies in Japan--from U.S. stores like Gap, Laura Ashley, Talbot's and L.L. Bean to specialty clothing shops that provide custom clothing and accessories.
References
Writer Bio
Erin Harty has been writing since 1997. She worked as a reporter and copy editor for "The Argonaut," contributes to a travel blog and has won three Idaho Press Club awards. Erin Harty has a Bachelor of Science from the University of Idaho.
Photo Credits