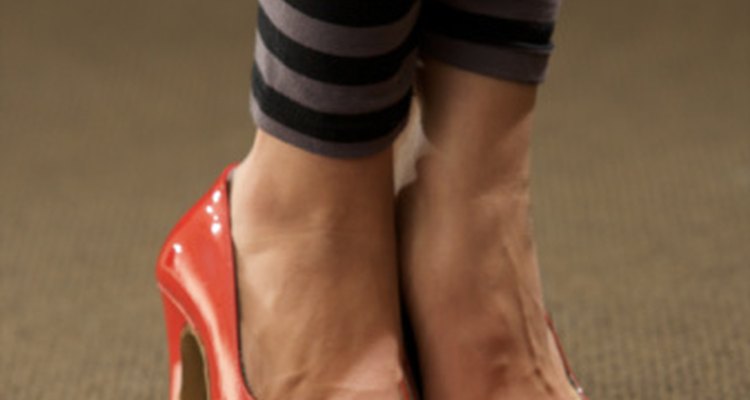 Jupiterimages/Photos.com/Getty Images
1950s fashion brought back glamour and elegance. Dresses got bigger, hair got styled to a "T" and accessories were richer than ever. This, however, didn't translate itself to shoes, as the two main colors for shoes in this decade were black and brown. Footwear in brighter colors was acceptable only as a part of an evening ensemble. What they lacked in innovative patterns and interesting colors, shoes in that decade made up for in their heel height — women wore extremely high heels and wore them often.
Court
Court shoes were the simplest and most commonly worn shoes in the Fifties. They were round-toee shoes and closed in the back, looking like ballerina slippers on heels. The height of these heels was either low or medium. The latter, also known as the "kitten heel," was up to 2 inches high. Court shoes were the most popular at the beginning of the decade, but were forgotten as shoes with higher heels gained in popularity later on.
Low-Cut Vamp
The low-cut vamp shoe was created by Christian Dior and his shoe-designing partner, Roger Vivier, in 1953. Their collaboration proved fruitful, as they developed a whole new look for shoes. The low-cut vamp covered the toe and instep, while the middle part of the foot was left exposed. The heels went from low to over 2 inches. The low-cut vamps were sometimes decorated with bows above the toe area.
Stilettos
Stiletto high heels were the highest heel shoes of the 1950s. The heels went from 2 to 7 inches and were slender and pointy. In the middle of the decade, pointy-toed stilettos came into fashion, replacing the rounded toe that was stylish before. Stilettos only had about 1/2-inch worth of diameter on the ground — sometimes even less — and walking in them was quite a task.
Sandals
Sandals were all the rage in the 1950s. For elegant wear, "strappy" sandals were popular. These were open-toed shoes, which were fastened around the ankle with a single strap. A more casual version was the kitten-heeled sandal, which did not get fastened on the back side of the shoe at all.
References
Writer Bio
Lucy Natek started writing in 2004. Her work has appeared in publications such as "Sketchbook," "Kismet," "In*tandem" and "Rahha" and on websites such as Dia, Fashion Students Online and Haus Digital. Natek holds a master's degree in political science and international relations from the University of Ljubljana.
Photo Credits
Jupiterimages/Photos.com/Getty Images