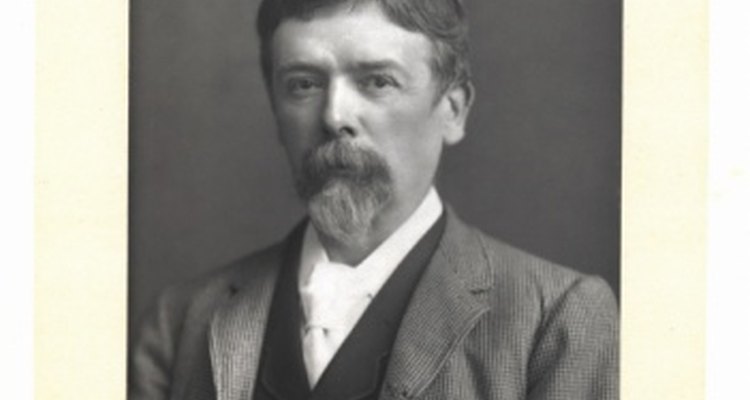 Photos.com/Photos.com/Getty Images
The 1890s marked the beginning of the end for the Victorian Era, which had ruled society and fashion since the 1830s. Excitement and optimism could be felt as the 20th century neared, and a slight relaxation was felt in the world of men's fashion. Even with a more relaxed feel for the time, the clothes would still be considered highly formal by today's standards.
Day Suits
A man's daytime suit in the 1890s would be considered appropriate for the most formal of occasions in modern day. Men wore vests, or waistcoats as they were known, and often had many of them in different colors and materials as a way to vary their work wardrobe. Pants worn for daytime had a high waist and were cut slim with a flat front, no pleats. They were often brown or grey or even patterned with stripes or checks. The Sack jacket was the popular coat to wear for daytime in the 1890s, a shorter cut that ended at the hips and was all the rage.
Evening Wear
The Victorian Era gave men reason to dress in formal evening wear quite often. Dinners, dances and cultural events called for full formal attire. Men wore what would be considered a tuxedo by modern standards simply to go to dinner. Frock coats were seen often at the time, long jackets that went to the knee in front and back. Tail coats were also worn, which were short in front and long in back. Waistcoats were always worn beneath, and would hold the man's pocket-watch. For formal occasions, men wore white gloves. Men wore long overcoats in cold weather during the day or night, or wore black capes at night.
Ties, Collars and Shoes
Ties in the 1890s were rather bland compared to today, usually black. The pop of color in a man's wardrobe was accomplished with his waistcoats rather than his ties. Ties were often silk and could be worn long or short for daytime. Evening ties were usually ascots or bow ties. Stand-up shirt collars were often worn at the time, especially with formal evening wear. Collars buttoned to the shirt and could be removed for cleaning. Hats were a staple in a man's closet; derbies and bowlers were seen for daytime wear during the 1890s, while top hats remained the most commonly worn for evening.
Laborers and Farmers
Men who labored for a living and did not work in an office had no use for a suit during the daytime. These men wore flannel, linen or cotton shirts and pants that were sturdy and tough, made from wool, denim or corduroy. Pants were held up by suspenders, or bracers as they were called at the time, not belts. Laborers still wore hats; the peaked cap was one style worn by workers. These men did own suits, and would wear a suit with a vest to social outings such as church or dances.
References
Photo Credits
Photos.com/Photos.com/Getty Images