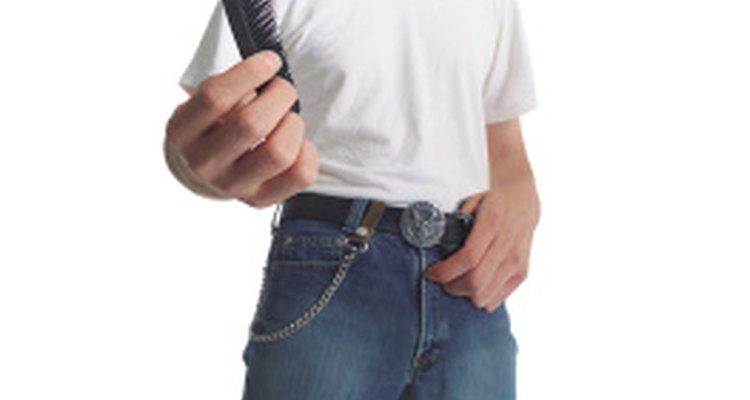 Photodisc/Photodisc/Getty Images
The 1950s brought about a new air of fashion, as men wore more than just "civilian clothing," a term that described the plain suit, raincoat and hat ensemble prevalent after World War II. The decade saw an increase in styles, from the Teddy Boy fad to the urban-inspired greaser look. Between bright-colored suits, denim jeans, leather jackets and berets, men of the 1950s had plenty of styles to choose from.
Smart Businessmen
The new business attire of the 1950s was the sleek Italian-tailored suit -- a contrast to the slack-fitting, three-button gray flannel suits worn prior. The new suit was fashioned out of lightweight woolen fabrics, which helped mold it to the body. Jackets were slim cut, single breasted and slightly shorter than the traditional blazer. This form-fitting jacket was paired with slender tapered trousers, and the ensemble was often finished with a crisp white shirt, a thin tie and pointed shoes.
Teddy Boys
The Teddy Boys were a subculture that originated on the streets of London, but the style soon permeated 1950s menswear with the influence of crooners such as Frank Sinatra. The dandified look included a fitted single-breasted jacket called a drape, which was made of wool but featured a velvet or satin lapel and cuffs. Often cut from bright-colored fabrics, the jackets were typically paired with a brocade vest and a starched white shirt. The final touch was suede shoes, which often matched the ensemble's color.
Beatniks
The anti-establishment beatniks had a rebellious style all their own. Rejecting the politics and materialism prevalent in the decade, this group typically wore tight black turtlenecks over black slim-fit slacks or jeans. A bulky black sweater or T-shirt could be tied into the ensemble, which was often topped with a black beret. Beatnik men often favored open-toe sandals and dark sunglasses.
Greasers
Greaser garb, made popular by actor James Dean, was worn by inner-city youth in the United States. A casual look, the 1950s greaser wore white tank tops or T-shirts with short sleeves rolled up. Also popular were brightly colored and short sleeved daddy-o shirts, which featured a black collar and side panels. These tops were paired with Levis 501 or 505 jeans or dark baggy work pants, while a leather or denim jacket with an upturned collar was the outerwear of choice. The look was often finished with a pair of Converse sneakers, pointed Italian shoes or motorcycle boots.
References
"Defining Dress: Dress as Object, Meaning, and Identity"; Amy De La Haye, Elizabeth Wilson; 1999
"The 1950s and 1960s"; Anne Rooney; 2009
"The Men's Fashion Reader"; Peter McNeil, Vicki Karaminas; 2009
"Designing Clothes: Culture and Organization of the Fashion Industry"; Veronica Manlow; 2009
Writer Bio
B. Maté has been reporting on creative industries since 2007—covering everything from Fashion Week to the latest artist to wow the Parisian art scene. Her experience stems from a marketing background, with more than 12 years of experience consulting fashion-forward entrepreneurs.
Photo Credits
Photodisc/Photodisc/Getty Images