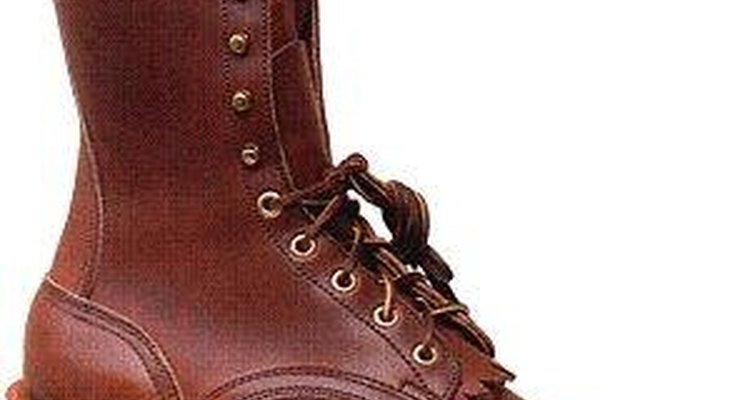 http://drewsboots.com/packers.htm
American cowboys, pioneers and prospectors who traveled to the West required dependable footwear that would stand up in all types of weather. These boots also needed to be comfortable to wear when walking over rocks as well as dusty trails and made of thick enough leather to repel rattlesnake bites. The tall, lace-up packer boot fulfilled all the requirements.
History
In the mid-1800s, the most popular boot in America was the Wellington, a leather military-type, pull-on boot that was worn by many Civil War officers. Unfortunately, these boots did not hold up well over time, so most enlisted men, who were primarily farmers, wore boots that laced up and served them well on the farm. After the war, shoemakers began to make early cowboy boots of waxed leather and added the Cuban angled heel that horsemen preferred. Frontiersmen had long preferred lace-up boots, so the angled heel was added to the lace-up style, forming what is known as the "packer boot," the style favored by ranch hands.
Features
Packer boots had the right design for their function. The boots were cut of thick leather that was waxed on the flesh side. The wax helped the boots last longer and also aided in waterproofing them. The laced front of the boots allowed their owners to loosen the laces a bit when they wore thick winter socks. The laces could be pulled tighter in the summer months when the ranch hands wore thinner socks or none at all.
Function
Not only were the boots able to accommodate various thicknesses of socks and keep the wearers' feet dry, but the thick leather prevented the fangs of rattlesnakes from piercing legs and ankles and saved their shins from bruising when clambering over rocky terrain. The height of the packer boots protected the shins of horse riders, while the angled heels helped hold their feet in the stirrups.
Origin of the Term
Many of the early pioneers who wore this type of boot lived in the Rocky Mountains and worked with pack horses. When they were going out to work with their horses, they would don their "packer" boots.
Packer Boots of Today
Present-day packer boots are normally about 10 inches high, but can reach to the knee. Most have a false tongue that folds tight against the foreleg under the laces, but is connected up each side to the boot. The boots are still made of thick leather, but are made in not only brown, but also black and other colors. The soles are usually made of rubber, neoprene or Vibram, and the boots are now often called "work boots."
Photo Credits
http://drewsboots.com/packers.htm