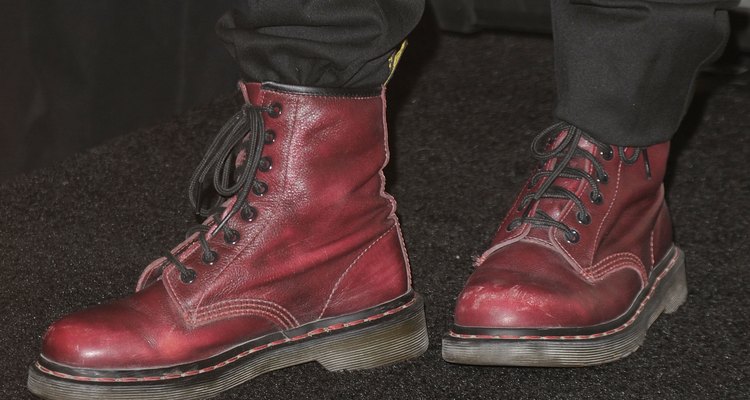 Jason Merritt/Getty Images Entertainment/Getty Images
Dr. Martens boots have been a pop-culture icon for most of their history. The brand was born in 1960 as a partnership between an existing British boot manufacturer and a pair of German scientists, who' had developed an unusually comfortable boot insole. The boots, intended originally for blue-collar working men, were quickly adopted by rebellious rock-and-rollers, most notably guitarist Pete Townshend of The Who. They've remained popular since, and have proven remarkably durable over the years. Like any footwear, they benefit from regular care, especially those with suede uppers.
Brush the boots thoroughly with a stiff boot brush, to remove loose dirt and surface soil.
Remove the boots' laces. Use a dry, clean toothbrush to clean all the seams between the sole and the upper, as well as the seams around the laces and tongue.
Steam the suede lightly over a pot of water, if its nap has become matted. After 10 to 15 seconds, brush the matted area vigorously with a stiff brush to restore the nap.
Abrade the suede lightly with an emery board, if any areas have gotten worn smooth. The emery board will roughen the area and raise the nap slightly, making the worn spot less obvious.
Treat stains with a small amount of suede cleaner, applied with a soft cloth where needed. Then blot them dry with a clean cloth.
References
Writer Bio
Fred Decker is a trained chef and prolific freelance writer. In previous careers, he sold insurance and mutual funds, and was a longtime retailer. He was educated at Memorial University of Newfoundland and the Northern Alberta Institute of Technology. His articles have appeared on numerous home and garden sites including GoneOutdoors, TheNest and eHow.
Photo Credits
Jason Merritt/Getty Images Entertainment/Getty Images