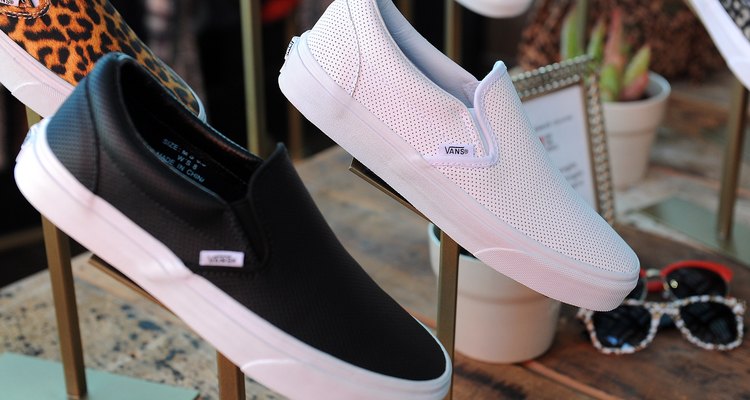 Angela Weiss/Getty Images Entertainment/Getty Images
Skateboarders, BMX bikers, snowboarders, and those with a preference for casual footwear, can easily identify Vans shoes. Vans have been around since 1966, and the athletic shoes remain authentic -- even when they are worn out and beat up -- reflecting the comfort and versatility they bring along to everyday life.
The Beginnings
The Vans company originally started out as a rubber company, created by Paul Van Doren and his partners in the Boston area. Van Doren, who loved horses and race tracks, worked at a shoe factory, Randy's, where he later became the executive vice president. This company became a giant shoe manufacturer, producing canvas shoes, but lost its momentum along the way. This motivated Van Doren to start a new shoe company from scratch. Vans was born, first known as the Van Doren Rubber Company, and its biggest competitors were Randy's, Ked's and Converse.
First Shoes
Vans shoes didn't have names, but they were identified by numbers. The most popular style on opening day was #44, which today is known as the "authentic" shoe. This shoe, made of thick canvas and nylon thread, came in navy blue, white, green and red, but years later, it was the newly introduced black color which made it a bestseller. Among the collection, there were boat shoes, canvas boat shoes and leather deck shoes for men, women and children.
For Skaters
Around the 1970s, skateboarders and BMX riders developed an interest in colorful Vans shoes. As a result, leather was introduced, and was used on the toe and heel mainly for these skateboarders who easily wore these shoes out. Around 1975, custom-made skateboarder shoes were being made, with padded backs, outside heel counter, a padded collar, various color combinations and special labels, with the most significant part being the sides which protected skaters from accidents. According to Vans Australia, "Skateboarders who like Vans' rugged make-up and sticky sole are seen sporting Vans all over Southern California in the early 1970s."
New Styles
Vans is a competitor among sports shoe companies. Over the years, styles were created for other sports such as baseball, skydiving, wrestling and basketball. In 2004, Vans allowed its customers to custom-design styles of slip-on Vans online.The company also sponsors a Vans skate park, the Vans Warped Tour -- a music and sports festival -- and skate street contests. Vans are always the heart of these events. In recent years, fashion designers have designed their own Vans styles together with the company.
References
Writer Bio
Aleksandra Ozimek has been writing professionally since 2007 for a fashion blog, various online media and the "Queens Courier," in addition to interning at "Cosmopolitan" magazine. She completed her Bachelor of Science in journalism and photography from St. John's University, where she is completing her master's degree.
Photo Credits
Angela Weiss/Getty Images Entertainment/Getty Images