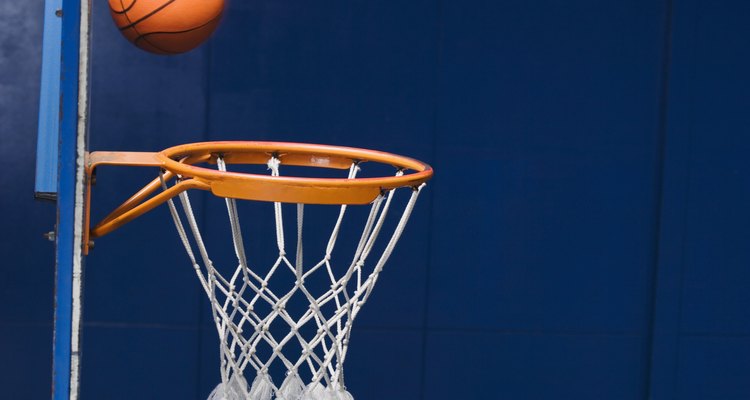 Jupiterimages/Pixland/Getty Images
The Nike company is home to shoe collections individually designed by professional athletes. The athlete, celebrity, or company uses basic Nike designs as a foundation for creating something original. For example, Nike Air's padded heel is used in many of Nike's other lines. Due to this variety of design, it can sometimes be difficult to determine which shoe is which.
History of Nike
Nike began as a partnership between a visionary track coach, Bill Bowerman, and a former runner and business-school graduate, Phil Knight. The collaboration started when Knight became a distributor for Tiger shoes in Japan. He ordered a shipment of the Japanese shoes and approached Bowerman for a sale. Instead, Bowerman offered a partnership and began tearing apart the shoes to experiment with how he could make them better. The company took the name Nike in 1971 and, as of 2011, is a leading brand name in athletic footwear.
Nike Air
Nike Air refers to the patented Nike technology that adds air to the mid-sole of a shoe. This provides a cushion for high-impact physical activity, such as running and jumping. Nike first released the technology in 1979 and due to its popularity, the same technology became included in subsequent shoe lines. The Nike Air Max released in 1987, for example, has the air-filled mid-sole exposed with a clear plate. These shoes have a distinctive sporty and functional look, most with bright colors and all with the iconic swoosh.
Nike Air Force I
The Nike Air Force I collection is designed by a myriad of athletes from around the world. Each shoe has signature components that set it apart from the others, but all have the air-filled mid-sole. The most obvious difference between the Nike Air Force I and other Nike Air lines is the mid-sole is not exposed, giving the Air Force I a sleeker look. The individual designs are also more artistic than the Nike Air, with Chinese silk and rainbow soles adorning some shoes from the collection.
Identifying Counterfeits
Counterfeit shoes are widespread in the shoe industry and they are often difficult to recognize. In 2007, the New York City police seized over 290,000 counterfeit Nikes from two separate warehouses.Some Nike copies are so sophisticated that it is nearly impossible to see the difference. The best way to avoid purchasing counterfeit Nike Airs, or Nike Air Force I, is to buy directly from a licensed Nike distributor or directly from the company itself.
References
Writer Bio
Tiffany Ross is a writer and actress who has been working in Chicago since 2004. She holds a Bachelor of Fine Arts in acting and is completing her Master of Science in Oriental medicine. Ross is a world traveler with experience working overseas.
Photo Credits
Jupiterimages/Pixland/Getty Images