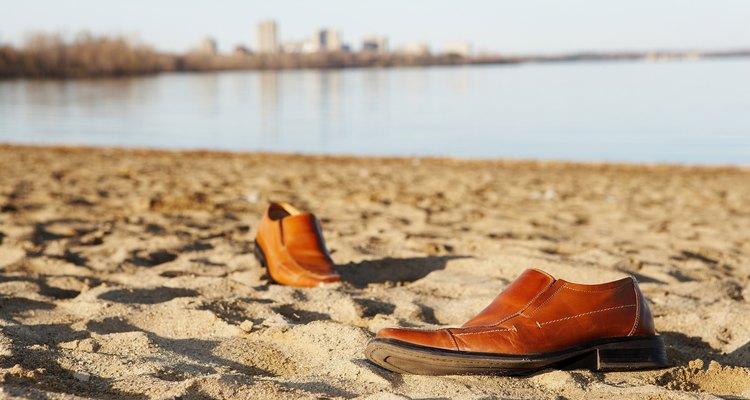 Jupiterimages/Photos.com/Getty Images
Even if you're not a fashion expert, you can spot a pair of quality shoes from a mile away. However, sometimes knowing which shoes look good isn't enough. While men's shoes tend to be less complicated than women's, understanding a few basics about men's boat shoes and loafers will ensure that you know when they're appropriate and how they should be worn.
Boat Shoes
You may be surprised to learn that the boat shoe owes its existence to a cocker spaniel named Prince. Of course, the dog's owner Paul Sperry played a role in the shoe's invention as well. In 1935, Sperry designed a pair of shoes to mimic the way that his dog's feet gripped the slippery deck of his boat; the boat shoe was born. Although most people don't wear their boat shoes on actual boats anymore, the herringbone patterned rubber sole make these shoes excellent footwear for slippery surfaces. Meanwhile, their preppy style has kept them a mainstream casual staple for decades.
Loafers
Loafers are perhaps the most versatile footwear available to men today. These shoes offer a wide range of style and design, but their most defining characteristic is that they do not have laces. Penny loafers are one of the most popular styles and other well-known designs include tasseled loafers, round toe, square toe and casual loafers. Part of the charm of loafers is that depending on the specific shoes, they can be casual, dressy and sometimes both. For example, a black leather penny loafer with a slender design and pointed toe is versatile enough to be worn with both casual and business attire. A square toe loafer, however, is most appropriate for casual attire.
Boat Shoe Design
Although both boat shoes and loafers are often made with a variety of materials, including canvas, leather and suede, their basic designs are very different. Boat shoes have a wide, round toe and a thick rubber outsole. Also known as "topsiders," these shoes typically use contrast color stitching along the toe box and have laces that weave around the shoe from the tongue to the upper back heel. While your boat shoes should be comfortable and casual, their lack of ankle and arch supports make them inappropriate for rigorous physical activities like running.
Loafer Design
The most important loafer design elements to consider are the toe box, the heel, the outer sole and shape. The hallmark of a casual loafer is in the toe. Square toe loafers are casual and are not appropriate for business attire. Similarly, loafers with wide, round toes like those found on topsiders, are casual and not appropriate for the office. Loafers with pointed or narrow toes are sleek enough to be worn with a business suit. Dressy loafers will also have a firm outsole that bends at the ball of the foot and have a discernible heel similar to dress shoes. Casual loafers, however, will have a softer, more pliable outsole with heels that resemble those of athletic footwear.
References
Writer Bio
Chance Henson earned a B.A. in English literature and a writing minor from Lamar University. While interning at the "University Press" newspaper and "UP Beat" magazine he received an award for news feature writing from the Texas Intercollegiate Press Association. Henson went on to serve as content editor for "CUSH Magazine," eventually leaving to pursue the development of an online secular humanist educational publication.
Photo Credits
Jupiterimages/Photos.com/Getty Images