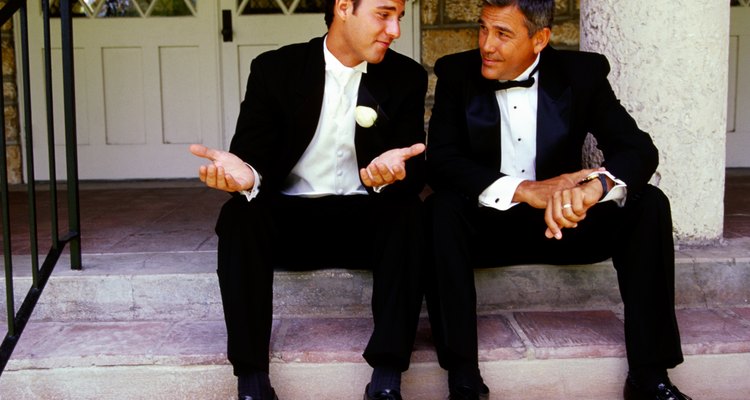 Stockbyte/Stockbyte/Getty Images
Different situations call for different types of footwear. Never is this more true than in men's formal wear. Tuxedo shoes feature certain design elements that make them more formal than regular dress shoes. Understand the distinctions so you wear the right shoes for the right occasion.
Elements of a Tuxedo Shoe
A hallmark of a proper tuxedo is its classic simplicity, and the shoes should reflect this plain style. Tuxedo shoes are without fail made of patent leather or highly polished calf leather -- and black. They are unembellished, featuring none of the designs that you might find on a wingtip or other dress shoe. Very minor details, such as a seam from a captoe, are acceptable, and very formal court shoes feature a satin bow on the upper.
Colors
Tuxedo shoes are always black and worn with black socks. Contrast this with dress shoes, which may be black, brown, tan or sometimes gray, and which may be paired with argyle, striped or dotted socks. Dress shoes worn in less conservative environments may even have contrasting soles and uppers, which is utterly inappropriate in a tuxedo shoe.
Materials
Most tuxedo and dress shoes are leather, either calfskin or glossy patent. In some cases, cheaper rental tuxedo shoes are made of polyurethane or PVC, which gives the shoes a high sheen and costs less than leather. Tuxedo shoes traditionally are smooth and texture- free, while dress shoes may feature suede uppers, embossing or stitching.
Styling and Fit
Ideally, a tuxedo shoe should be reasonably slim and form-fitting. Square-toed shoes are not recommended, because they are inherently less formal by design. Soles on most proper formal shoes are about 1/8- to 1/4-inch thick. Conventional dress shoes come in a variety of styles and degrees of chunkiness. In both cases, the footwear may be slip-on or lace up styles, based entirely on personal preference.
References
Writer Bio
David Lipscomb is a professional writer and public relations practitioner. Lipscomb brings more than a decade of experience in the consumer electronics and advertising industries. Lipscomb holds a degree in public relations from Webster University.
Photo Credits
Stockbyte/Stockbyte/Getty Images